Sales Have Ended
Ticket sales have ended
Sorry, we had to close the door for bookings, as the event is about to commence. Please subscribe to Cecilia's mailing list, and come to a future session. https://www.ceciliamacaulay.com.au
Sales Have Ended
Ticket sales have ended
Sorry, we had to close the door for bookings, as the event is about to commence. Please subscribe to Cecilia's mailing list, and come to a future session. https://www.ceciliamacaulay.com.au
Declutter, enchant, and transfom the humble spots in your home into shrines of beauty & love: yoga nook, bookshelf, even kitchen sink
About this event
Note: This workshop will be on again, Wendesday evening May 3rd.
Get inspired, do a hands-on declutter & reset, start a whole new culture at home.
Have you ever cleaned up a room and it has uplifted your mood? Get ready for that good mood extravaganza. Your guides Cecilia Macaulay will bring inspiration and insight to transform your home and your habits, in real time.
Together we will beautify one room, and make a place you love being in. It will refresh your energy and your perspective.
As you cultivate your space, you cultivate your spirit. Tell your clutter that its days are numbered. As you liberate your space from obstacles, the space supports you and your goals.
You'll learn the basics of being the designer in your life. You will have a place to stretch like a cat, or curl up and simply Be.
This is an embodied and interactive time together, not one bit like work! You'll get to ask questions, engage in activities, and be inspired by Cecilia's beautiful photos and ideas. We will get things done, and have a show-and-tell at the end. Using principles like:
- Feng sui: mountain at your back, a river in front
- Decluttering: less stuff, more love.
- Identify your sense of beauty, then subtract what doesn't belong
- Expand on what lights you up.
-----------------
Cecilia brings wisdom from Japanese culture and Permaculture (nature-based design), right to where you can use it, daily.
You will go away with design principles that are fascinating, fun and stay with you for life.
What people say about Cecilia's Declutter Series:
"This beguiling creature is the genius who helped me order my house so beautifully and naturally. With the space that appeared, I replaced mere' things' in my home, with he most wondrous, interesting and kind housemates I never could have imagined!
-Delldint, Blackburn
"Anyone can really be impacted by Cecilia's method. I can hardly believe the change in me but it's just the beginning."
"I transformed my cluttered study into a lovely ordered space and it's lovely to keep coming back to Cecilia's events and get the encouragement I need to tackle even bigger things."
-Anne, South Gippsland.
Press the 'register' button, wait for email instructions, and we'll see your lovely face this Sunday afternoon via zoom, and celebrate the last day of winter.
Photo credit: thejourneyjunkie.com

Sharehouse sunny nook, before and after, by Cecilia with Deldint, Guy Ritani and crew.

A farmyard declutter by Cecilia creates a light, airy space for concerts and connecting to nature, self and each other.
Can you see the changes?
Can you identify any principles that will mean effort has been put into effortlessness?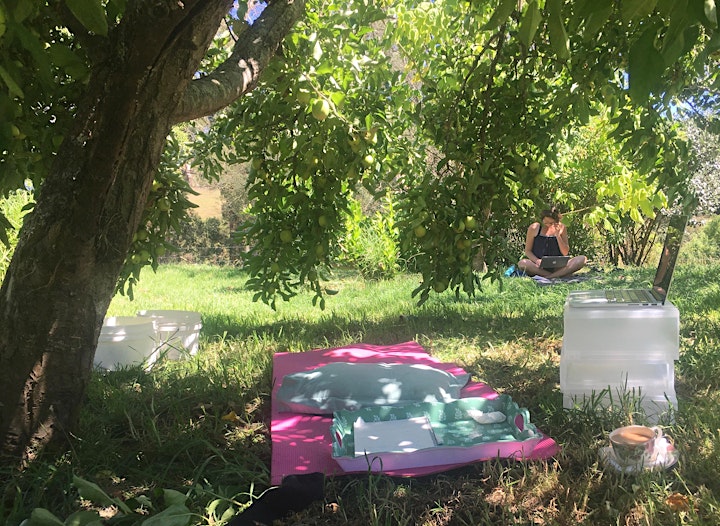 Under the apple tree becomes a place for convival introverts to stretch, snack, and reflect on life, seperate and together. Its improvised, a bit scrappy, but it opens up possibilies, and will get lovelier and lovelier.

This cluttered Garage became a lovely Yoga place for children to come to, or happily be sent to when they need to 'decompress'. The project unfolded gradually over a year, as the owners got more and more inspired by how beautiful it was becoming. Clutter got 'digested', useful things went into orderly cupboards. The wooden floor suddenly felt it was worth saving up for, and the family now have a pressure-valve retreat to go to. Much better than the 'stuff'.