Description
Design for Success brings together 3 uniquely driven professionals, to share their insights and empower you to take action and create financial freedom, personal success and ultimately happiness in your life.
The 3 Pillars of "Design for Success" are:

Law of Attraction

5 Steps to Empowerment

Frustrated to Fantastic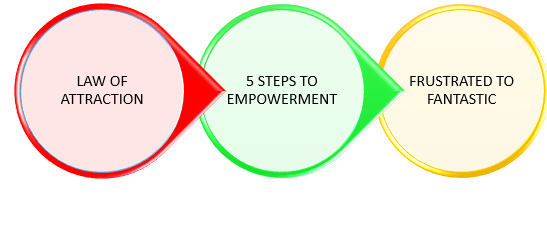 ---
PILLAR 1: LAW OF ATTRACTION
Why is it that so many people struggle to live the life that they deserve? Why is there so much depression, anxiety, and negativity in our society? Is success just reserved for the lucky few?
Love, happiness, and success are for everyone if they understand how to create it. It has nothing to do with luck. In "Design for Success", Gary Muller discusses the mystery of the law of attraction and how to use it to create the love, happiness, and success that you deserve. Gary will share with you his insights, personal experiences and vast knowledge. We are all worthy and deserving to create our own design for success.
---
PILLAR 2: 5 STEPS TO EMPOWERMENT
A transferable process that you can apply in real life circumstances. The 5 Steps to Empowerment are applicable to every aspect of life, be it to redesign a business venture, your personal life or relationship. We all know life is full of adversity and challenge. These experiences have lead Shirley to become "the Change Expert". Her simple steps will send you home, revived and empowered to implement change in your life to achieve whatever your heart desires.
---
PILLAR 3: FRUSTRATED TO FANTASTIC
Creating clarity, focus and direction
Ameeta, a Transformation Coach and Naturopath will discuss the impact of nutrition and mindset on how you can take control and start making positive changes.
Are you trying to get ahead with your business, but losing motivation?
Do you find yourself frustrated with not being as productive as you'd like?
Do you have a desire and passion for moving from being stuck to being able to authentically help others with what your business offers?
Ameeta will show you how you can break these negative cycles and form new, rewarding and empowering ones!
What you'll learn are the 5 "B.R.I.D.E." Steps that will help you create clarity, focus and direction with your business. These steps will also provide the foundation for a deeper and more meaningful relationship with yourself and those around you:
Body Connection – Learn how to listen to your body's signs and use this awareness to prevent stress, anxiety, and insomnia with this simple tool

Relationship Release – Discover the tools to clear "baggage" in relationships that might be holding you back. Learn how to clearly share your message and be heard.

Intentional Freedom Technique - Move forward with your business, knowing you've learnt a technique that creates a myelinating mindset shift to create the best version of you!

Discover Your Purpose- Leave with a list of your core values and see the importance of aligning to these to gain momentum, clarity and target the right customers for your business.

Essence of the Feminine Technique- Change your emotions, thoughts, and actions in an instant by using this unique 3-second technique.