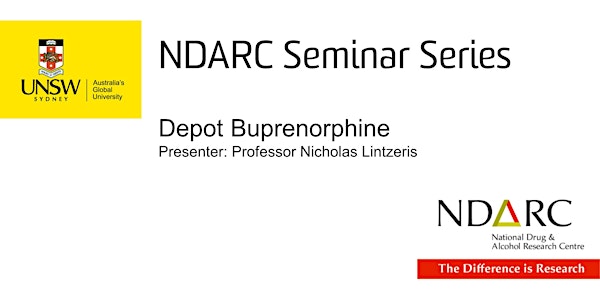 Depot Burprenorphine. Professor Nicholas Lintzeris
Location
Lecture Room 122
Building R1
22 - 32 King St
Randwick, NSW 2031
Australia
Professor Nicholas Lintzeris, Director of SESLHD Drug and Alcohol Services and Chief Medical Officer on the CoLab Project (NDARC).
About this event
Professor Lintzeris will be presenting on "Depot buprenorphine".
Depot formations are the cutting edge of drug delivery systems and have the potential to revolutionise opiate substitution treatment. Professor Lintzeris will explain what depot formulations are and what are their clinical implications. He will also comment on trials of depot buprenorphine being conducted by the National Drug and Alcohol Centre, UNSW.
Presenter Bio:
Professor Nicholas Lintzeris is an Addiction Medicine specialist who has been involved for over two decades in clinical service delivery, research, professional education and policy activities in the field. He is internationally recognised as an expert in the treatment of opioid dependence, and has clinical and research interests in benzodiazepine, cannabis and psychostimulant use.
As Director of Drug and Alcohol (D&A) Services in South East Sydney Local Health District, he oversees the provision of varied clinical services via specialist community- and hospital-based settings, for individuals with substance use problems residing within a catchment area of approximately 850,000 people. Additionally, he is a practicing clinician. Between 2011-2013, Professor Lintzeris also served as Chief Addiction Medicine Specialist (part-time) for NSW Health, providing statewide leadership on policy for the D&A sector.
Previously Professor Lintzeris was a recipient of a NHMRC Clinical Research Postdoctoral Fellowship based at the National Addiction Centre in London, UK, where he held clinical and research appointments. He has been active in policy development, having served on national and statewide policy groups and consulted to the WHO Mental Health Division. Currently he is a member of the Drug and Alcohol Program Council in Australia. Professor Lintzeris has been involved in a range of clinical translational activities, including the development of clinical guidelines, e.g. the Australian Guidelines for Medication-Assisted Treatment of Opioid Dependence (including buprenorphine, methadone and naltrexone) and the Australian Guidelines for the Treatment of Alcohol Use Disorders. He is Foundation Fellow of the Addiction Medicine Chapter of the Royal Australasian College of Physicians.