Description
Join us for a public forum focused on research on new technology and dementia caregiving. The forum is a part of the Gold Coast Health Research Week Conference 2017 and is being hosted by Gold Coast Health and Menzies Health Institute Queensland, Griffith University.
This free event will feature presentations from key researchers in dementia. It will be a unique opportunity for members of the public, especially people with dementia, their families and caregivers, and healthcare practitioners, to learn about new technology and innovations in dementia care. Light refreshments will be provided. A brief program is provided below.
Location and time
Tuesday 28th of November 2017
5-6.15pm Presentations in the Small Lecture Theatre

6.15-7pm Drinks and finger food in the foyer
Small lecture theatre, PED Building (Block E)
Gold Coast University Hospital, Southport, QLD
Accessibility
Accessible seats are available which do not require climbing stairs, and the lecture theatre can accomodate wheelchairs. All other seats require climbing shallow, wide stairs 16cm in height. Disabled parking is available, please note that there is some distance to the lecture theatre.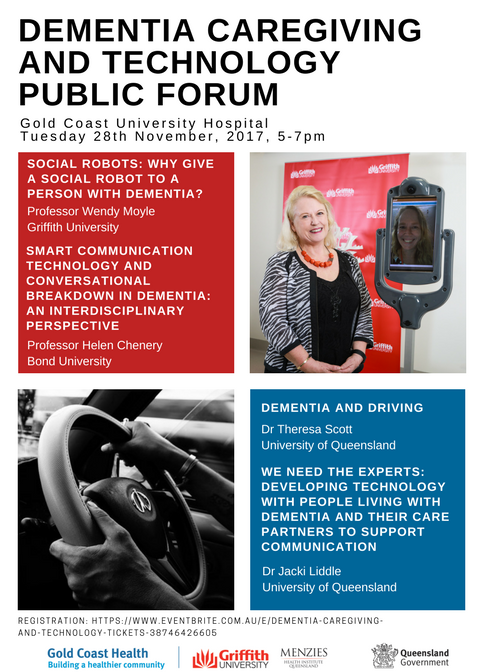 Please feel free to contact us with any queries or concerns
Dr Caitlin Brandenburg
Email: GCHResearchDevelopment@health.qld.gov.au
Phone: (07) 5687 0663