Location
New Farm
Dello Mano @ Merthyr Village , Shop 4
83 Merthyr Rd.
New Farm, QLD 4005
Australia
Description
Since 2006, Dello Mano has established itself as Australia's foremost purveyor of luxury brownies and more recently premium cakes. Our signature High Tea, which has been delighting guests of all ages for over three years, is the premier way to enjoy our sumptuous sweets as well as our warm, genuine hospitality.
This year, in honor of our beautiful location at the heritage-listed Tattersalls Arcade, we're launching two new High Teas: The Arcadian and The Chocolate Queen. Both teas are available at Tattersalls Arcade and now with the launch of our equally-lovely New Farm Village locationit's also possible to sit in enjoy this high tea and the Village atmosphere. Our New Farm villsage store is located at Merthyr Village, nestled in an eclectic, Italianesque neighborhood lined with trees and the beautiful energetic halo of the New Farm Park.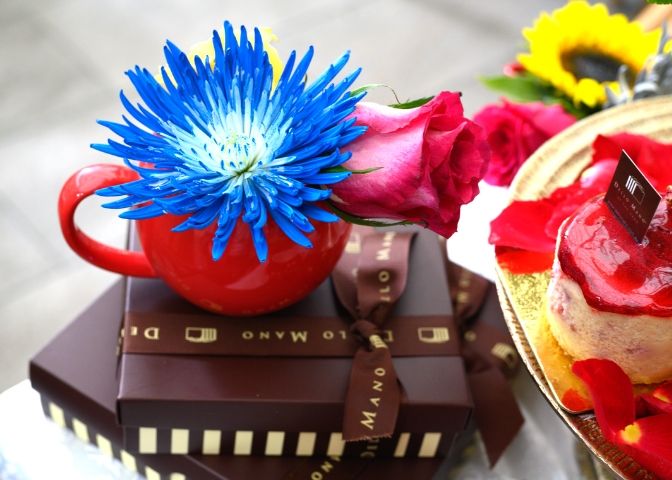 Book High Tea At Dello Mano New Farm Now
The Arcadian and Chocolate Queen High Teas are available to book now — seats for High Tea are limited and sell out fast. Book here on line or call 1300 661 682 to discuss your booking and reserve your table now.
If you miss your chance, don't fret; we run regular High Teas every Saturday and Sunday from 1 to 3 PM at both our Tattersalls Arcade and New Farm locations.
We're always happy to accommodate larger groups outside of our regular High Tea hours with prior notice. And, of course, we welcome brownie browsers and cake connoisseurs to visit our shops any day of the week.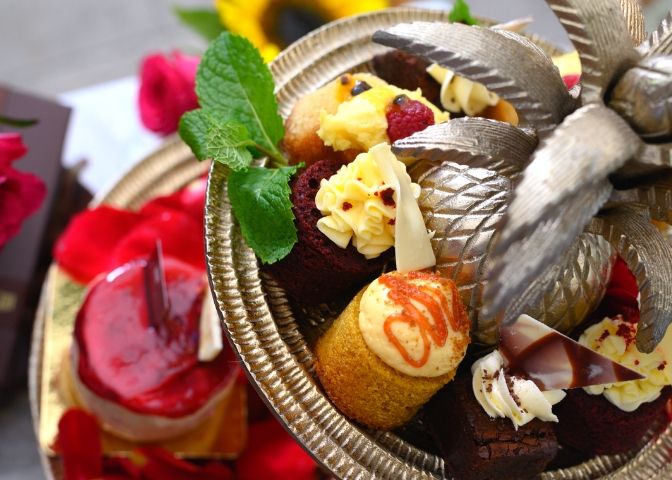 Choose Your High Tea Experience
Your choice of the Dello Mano High Tea - Arcadian or Chocolate Queen
THE ARCADIAN HIGH TEA
The Arcadian is named after our new home, Tattersalls Arcade, a high-end shopping destination housed in an Art Deco clubhouse. We also love the dictionary definition of "arcadian": idyllically innocent, simple, or untroubled. Like our Tattersalls and New Farm locations — unhurried oases from the modern world — The Arcadian Tea is the perfect idyllic respite from your worldly troubles. We invite you to unwind among Tattersalls' Classical friezes and gleaming brass fixtures or New Farms' fig trees and French rattan. The Arcadian features three mini-mini cakes — Golden Gaytime, Red Velvet, and Raspberry &Passionfruit Torte — as well as a brownie mousse with meringue, scones, and three savory sandwiches, all chosen to pair perfectly with your favorite tea.
THE CHOCOLATE QUEEN HIGH TEA
The Chocolate Queen's namesake is Queen Street, the beating heart of Brisbane and the street on which Tattersalls Arcade is located. Since Brisbane's Victorian period, Queen Street has been known for sophisticated, elegant shopping experiences, a legacy that continues with the vibrant Queen Street Mall. The Chocolate Queen evokes Queen Street's grand Victorian past while remaining fashionably grounded in the present. Fans of our intensely chocolatey brownies will love this tea set — the selections never stray far from our Brownie Revolution roots. Served on a gleaming, golden service fit for a real queen, the tea features a wide range of chocolate treats, including Blackforest and Chocolate Milkshake mini-mini cakes, truffle bon-bons, and our Belgian Chocolate brownie. We suggest pairing this spread with a pot of rich, creamy hot chocolate instead of the customary tea. The Chocolate Queen Tea is particularly perfect for Mothers' Day, because we all know that Mum is the real queen of our hearts.