bitter absurdity, mundane sounds and poetry
About this event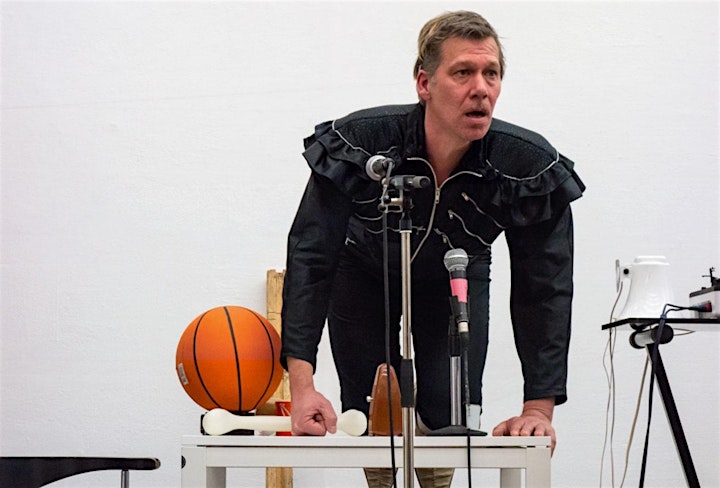 Rotterdam publishing house De Player's interest is in the reproduction of sound, the optic and acoustic qualities of vinyl as well as the untapped potential of its materiality. The work invariably reverberates somewhere between intellectual pursuits and nonsense, expresses a fondness for "ultrahobbyism", and is characterized by subversive undertones.
In this performance reading, De Player general director and artist Peter Fengler seeks to turn bitter absurdity, mundane sounds and poetry into elaborate and precise soundcollages, through the use of vinylrecords, sculpture, installation, performance and multiples. Fengler deals with the implications of reproduction of sound and language throughout its history through a mix of theory, facts, fiction, poetry, soundbites, images and gestures.
De Player is a polymorphic production platform in Rotterdam producing interdisciplinary programs and publications of performance, experimental music and visual art. Issues of concern in include language, character, notation, sound, communication, community, shaping, transformation, use and abuse, and conducting. Animating concepts are anti-copyright, recycling, coding, post-punk, circuit bending, outsourcing, amateurism, file sharing, networking, pop culture, concrete poetry, nuclear processes, destruction, guerrilla, romance, electronic literature, etcetera to shape, form, texture and the senses.
https://www.deplayer.nl/
De Player are in Australia as guests of Liquid Architecture and The Melbourne Art Book Fair 2020 .
We acknowledge Aboriginal and Torres Strait Islander people as the sovereign owners of the country where we live and work, and recognise that sovereignty has not been ceded. We pay our respects to their Elders, past, present and emerging.
Organiser of De Player: ultrahobbyism