David Hunt will be in conversation with Wendy Harmer, one of Australia's much loved personalities, with the support of NSW Public Libraries
About this event
The saga of Australia continues with . . .GIRT NATION
David Hunt tramples the tall poppies of the past in charting Australia's transformation from aspiration to nation – an epic tale of charlatans and costermongers, of bush bards and bushier bastards, of labourers and ladies who weren't going to take it anymore. Girt Nation introduces Alfred Deakin, the Liberal necromancer whose dead advisors made Australia a better place to live, and Banjo Paterson, the jihadist who called on God and the Prophet to drive the Australian infidels from the Sudan 'like sand before the gale'. And meet Catherine Helen Spence, the feminist polymath who envisaged a utopian future of free contraceptives, easy divorce and immigration restrictions to prevent the 'Chinese coming to destroy all we have struggled for!'
Thrill as Jandamarra leads the Bunuba against Western Australia, and Valentine Keating leads the Crutchy Push, an all-amputee street gang, against the conventionally limbed. Gasp as Essendon Football Club trainer Carl von Ledebur injects his charges with crushed guinea pig testicles. Weep as Scott Morrison's communist great-great-aunt Mary Gilmore holds a hose in New Australia. And marvel at how Labor, a political party that spent a quarter of a century infighting over how to spell its own name, ever rose to power.
Copies of Girt Nation: The Unauthorised History of Australia Volume 3 are available from all good book sellers.
Numbers are limited for this free virtual event and bookings are essential.
This presentation will be broadcast online using Zoom. Book your place and we'll send you a Zoom link to join the meeting (download and install from zoom.us if you haven't already).
DAVID HUNT is an unusually tall and handsome man who likes writing his own biographical notes. He is the author of the bestselling Girt and True Girt, as well as two books for children. He will be in conversation with
WENDY HARMER, one of Australia's much loved personalities with a long career in journalism, radio, television and stand-up comedy. She currently presents Breakfast on ABC Radio Sydney, along with Robbie Buck.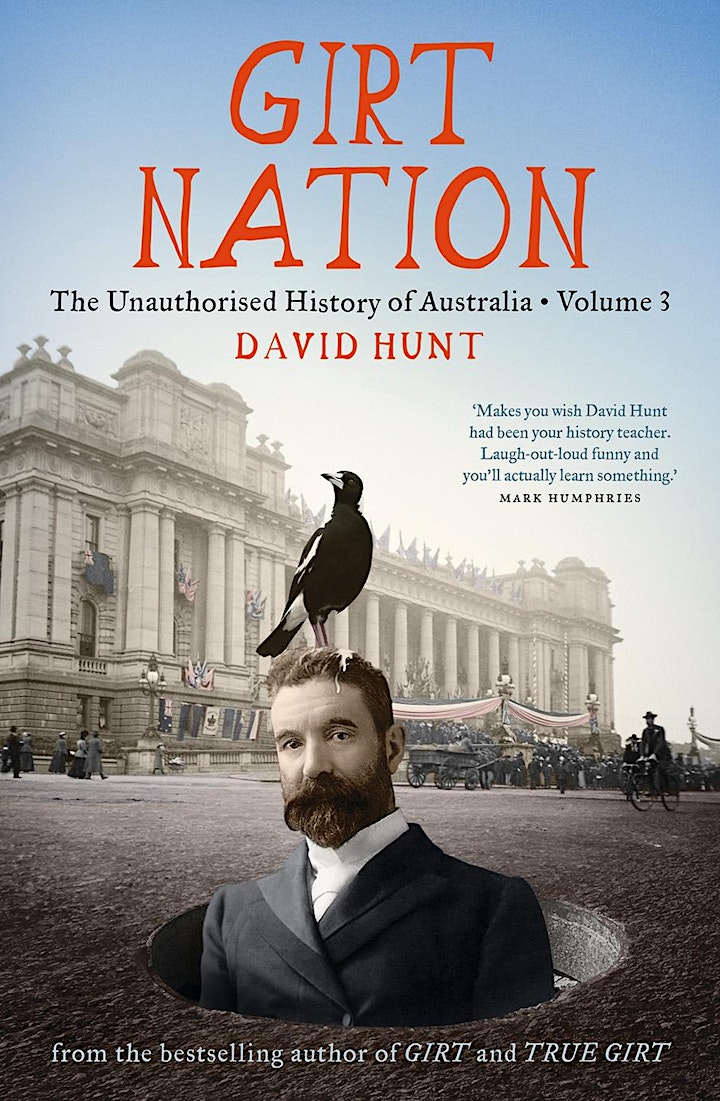 Organiser of David Hunt presents Girt Nation in conversation with Wendy Harmer