Crescent Head Hinterland Fire and Biodiversity Workshop

Tuesday, 4 June 2019 from 8:30 am to 2:00 pm (AEST)
Event Details
Welcome!
You are invited to join a Fire and Biodiversity Workshop in the Crescent Head Hinterland region.
The day will be organised by The Nature Conservation Council, with support from the NSW Rural Fire Service including local District staff, and Kempsey Council. The aim of the workshop is to increase the Beranghi community's understanding of bushfire risk, fire ecology and restoration, as well as providing an opportunity to share knowledge with neighbours and agencies. 

In this Fire and Biodiversity Workshop, you will:

Hear from Kempsey Council, NSW Rural Fire Service including local District staff, Biodiversity Conservation Trust, Macleay Landcare, local land managers, and the Nature Conservation Council about bushfire, ecology and land management in your area.
• Visit local bushland areas to discuss bushfire behaviour, risks, ecology, restoration and environmental considerations.
• Learn about unique ecological communities and threatened species, and the use of fire in land management and conservation.
• Have an opportunity to see nocturnal animals (via an optional spotlighting field trip), and to ask questions about bushfire, biodiversity and land management during the workshop. 
There will also be an optional spotlighting event after the workshop at a property on Beranghi Road, on the 4th of June from 5:30-7pm (meet on site). If you wish to attend the spotlighting activity, simply register for the workshop and choose 'attending' in the relevant question. Details of the site location meeting point will be emailed upon registration for this actvity.
Spotlighting is a technique where normally cryptic nocturnal animals such as owls or gliding mammals can be observed in their leafy habitats (if they choose to show themselves!). This is a useful way of discovering the wildlife present in your area.
 Crescent Head Hinterland (Beranghi/Maria) workshop target area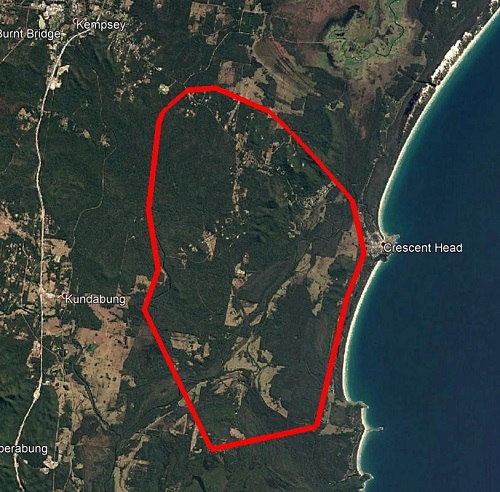 Fire and Biodiversity Workshop
When: Tuesday 4th June 2019, 8:30am - 2pm. 
Where: Crescent Head Community Hall, Baker St, Crescent Head (about 50m SW of High St), followed by field visits (in a bus) to Crescent Head Hinterland.
Who should attend? Residents in and around Crescent Head town and hinterland, including but not restricted to bushland along Beranghi Road, Maria River, Maria National Park, Connection Creek, Crescent Head Road are all welcome.
Cost: The workshop and spotlighting activity are free. The workshop includes morning tea and lunch.

What to bring: The workshop is mostly outdoors and involves some walking so please bring a hat, sunscreen, any other weather protection, sturdy walking shoes and water. If you are attending the spotlighting session, please bring a torch and binoculars (if you have them).
Itinerary 
8:30 am - Registration and Morning Tea
9:00 am - Welcome and presentations on bushfire, ecology, biodiversity, and management.
10:15 am -1:15 pm - Bus drive to three bushland sites in the Cresent Head Hinterland to hear more about bushfire and biodiversity, to showcase the unique environmental features of the area, and participate in group discussions and a short walk on a forest track through bushland. 
1:15 pm -Return to Crescent Head for lunch
1:45 -2pm- Workshop evaluation and close. 
Spotlighting Activity
When: Tuesday June 4th 2019, 5:30-7pm. Meet at 5:30pm at the site. Please note approximate finish time (in case we see lots of exciting wildilife!)
Where: Meet at field site on Beranghi Road, location will be emailed upon registration. 
What to bring: Sturdy walking shoes, something warm, a strong torch, insect repllent, binoculars (if you have these). 
Bookings essential: Please register above. Please select the quantity of people you are registering before selecting 'register'.
For any queries, please contact Nature Conservation Council's:
Bushfire Program Ecologist, Mark Graham, email: mgraham@nature.org.au, tel: 0424 498 033.
Bushfire Program Coordinator, Evelyn Chia, email: echia@nature.org,au, tel: 9516 0359.
When & Where

Crescent Head Community Hall
Baker Drive
Crescent Head
NSW 2440
Australia

Tuesday, 4 June 2019 from 8:30 am to 2:00 pm (AEST)
Add to my calendar