Location
The Lock-Up
90 Hunter St
Newcastle, NSW 2300
Australia
Description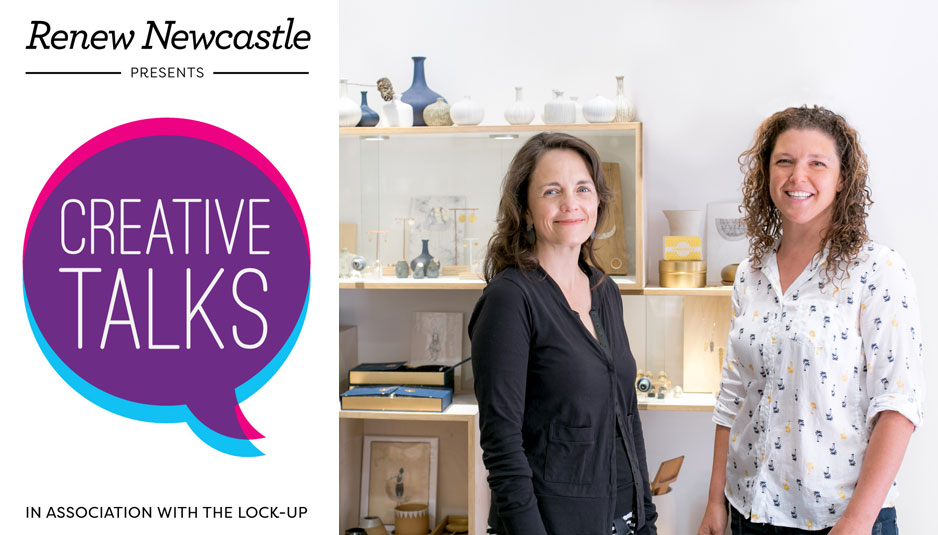 Renew Newcastle, in association with The Lock-Up, is excited to announce that Angela Hailey & Suzy Manning will join us for Creative Talks on Friday 06 November 2015.
ABOUT ANGELA HAILEY & SUZY MANNING
Suzy Manning and Angela Hailey are both jewellers with a visual arts background. They met when they both moved their families from Sydney to Newcastle and their children started primary school together. Shortly afterwards Renew Newcastle kickstarted their adventure, Studio Melt, in Hunter St mall that is now 3 and half years old. Suzy, having also completed a Dip Ed, runs workshops teaching adults and children to make jewellery. Angela has grown the retail side of the business to represent the work over 100 artists, selling their jewellery, ceramics and art. The space is also home to their own extremely sporadic jewellery making.
WHEN

Friday 06 November, 2015.
8.30am breakfast and registration
9.00am talk by Angela Hailey & Suzy Manning
WHERE
The Lock-Up, 90 Hunter St, Newcastle.
COST
$5 per person, includes pastry, fruit and hot drinks and good company.
ABOUT CREATIVE TALKS

Renew Newcastle presents Creative Talks, a series of breakfast lectures by people who are making a living from their creativity. Taking place on a Friday morning each month a well-regarded creative will be invited to speak for 20 minutes about the lessons they have learned growing their creativity into a commercial success. This is followed by an audience Q&A and the opportunity to mingle with local creatives from a wide range of backgrounds, over a stand-up breakfast.
Meet, greet and eat at Creative Talks.
HOST & SPONSORS
Creative Talks is kindly hosted by The Lock-Up.
Breakfast is generously sponsored by The Newcastle Herald.
Creative Talks is made possible by the generous support of Newcastle City Council.
PAST TALKS
View past Creative Talks with speakers such as Ghostpatrol, Tess McCabe and Lucas Grogan here.