Create Community Anywhere ~ 2016 National Co-op Housing Symposium
Description
CREATING COMMUNITY ANYWHERE
Do you want to join, start, design, develop, maintain or manage a Housing Co-op? Living co-operatively can cover many models of tenure including rental & privately owned co-ops, cohousing, eco-villages, retirement villages, shared houses, even tiny house parks. However funding, property management, governance and communication issues are shared across the many models.
Learn from lived experience and professional expertise. Share your knowledge, ideas and aspirations. This symposium is inclusive, informative and informal. A good time to connect and network with smart and hearty Co-op people from around Australia!

Presentations, discussions & workshops aplenty:
> Living the dream in a Co-op <
> Affordable & sustainable Co-op housing <
> Diversity & design <
Program details will be updated. Contact organiser if you wish to present a session.
10am - 12pm Friday 28Oct ~ Tour of Christie Walk Co-op
In the heart of the city there is a Co-op development of 27 homes and gardens on 2,000 sq m (see symposium image). It combines many ecologically sustainable and community enhancing features. Meet at the mural near 103 Sturt Street, Adelaide at 10am. ALLERGY ALERT: Active beehive on the rooftop garden.
1.30pm - 4.30pm Friday 28Oct ~ Annual Co-op Housing Network Meeting
This annual national meeting is for common equity & rental co-op housing peaks, rental co-op members and individuals with an interest in social housing co-op models.
9.45am – 4.30pm Saturday 29Oct ~ National Co-op Housing Symposium
A range of symposium registration fees are available and include refreshments & lunch. Volunteer positions available. Venue: The Hackney Hotel was established in 1883 and is a charming, award-winning venue with accessible ground floor rooms. 9.45 - 10.15am - registration and morning tea.
4.45pm ~ 5.15pm Saturday 29Oct ~ Botanic Park to Botanic Bar
After the symposium please join us for a breathe of fresh air as we walk through Botanic Park to re-convene at the Botanic Bar for Co-op Hour.
More info & updates: https://www.facebook.com/events/180338865740214/
All enquiries: Robyn Williams, 0424 587 262, pov@iinet.net.au
Why a symposium? Historically it's a drinking party in which attendees would revel together and discuss intellectual topics, from the Greek word symposion, meaning "to drink" and "together." More recently it's a gathering of people for the purpose of discussing topics of interest that is informal and social in nature. The most familiar historical example of a symposium, in Plato's dialogue of the same name, is the drinking party recalled by Socrates, where guests discussed topics such as love and the consequences of philosophical thinking.
We're very pleased to have the Symposium included in the Places SA Calendar of Events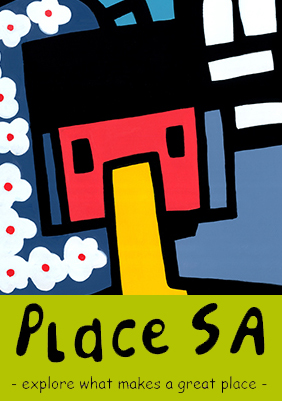 Organiser of Create Community Anywhere ~ 2016 National Co-op Housing Symposium