CRADLE Seminar Series: Kate Anderson on Self-Reflection in Online Learning
Sales Have Ended
Registrations are closed
Sorry, but registrations for this event have ended. To find out more about upcoming CRADLE events, visit our blog, www.blogs.deakin.edu.au/cradle
Sales Have Ended
Registrations are closed
Sorry, but registrations for this event have ended. To find out more about upcoming CRADLE events, visit our blog, www.blogs.deakin.edu.au/cradle
Description
Taking the plunge - Self-reflection and self-disclosure in the online learning environment

Dr Kate Anderson, School of Health and Social Development, Deakin University

As a teacher, have you ever wondered "how personal is too personal"?

Reflective learning is highly valued in tertiary education. Nonetheless, prompting personal self-reflection within an online, collaborative learning environment introduces additional risks that may not be well-addressed by teaching teams. Join CRADLE Fellow Dr Kate Anderson as she discusses practical considerations for supporting student self-reflection and considers the controversial practice of teacher self-reflection.

Research across a number of fields suggests that deep reflection (e.g., that involving the externalisation, internalisation or extrapolation of knowledge to/from experience) is a challenging skill for tertiary education students to attain on their own. Despite this, there is a lack of consensus around the best practices for supporting and teaching personal self-reflection online, especially within collaborative forums. This CRADLE seminar presents emerging knowledge about online self-reflective practices, drawn from international literature as well as interviews conducted with unit chairs across Deakin's Faculty of Health.
In this seminar Kate will explore several practical considerations for encouraging and supporting self-reflection by students, in both individual and collaborative settings. She will also map the practice of teacher self-reflection, including the potential risks and benefits of this controversial practice. Session participants will be encouraged to reflect on their own practices and identify opportunities where self-reflection may intersect with key threshold concepts in their subjects or discipline. This session will highlight the need to explicitly support reflective learning for online students, including the potential roles of teacher self-disclosure and reflective modelling in this process. It will also raise awareness of some unique considerations around digital literacy, technology, privacy, culture, and rapport between students and their teachers.

After Kate's presentation, join us for afternoon tea to continue the conversation around self-reflection and self-disclosure in the online learning environment.

This seminar will be available across all Deakin campuses via Skype for Business (please select your location via the ticketing options for room details), and will also be accessible to all non-Deakin locations online or over the phone (please select this ticketing option for further details).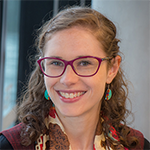 Kate Anderson is a lecturer in Disability and Inclusion in the School of Health and Human Development at Deakin University. Kate's research interests focus on capacity building and adult learning across the disability sector, including the preparation of future practitioners though online education. During her CRADLE fellowship, Kate has been exploring the use of self-disclosure by teachers and students in the online learning environment. She is currently conducting an intervention study to determine the effect of strategic teacher self-disclosure on students' reflective learning practices.
Organiser of CRADLE Seminar Series: Kate Anderson on Self-Reflection in Online Learning