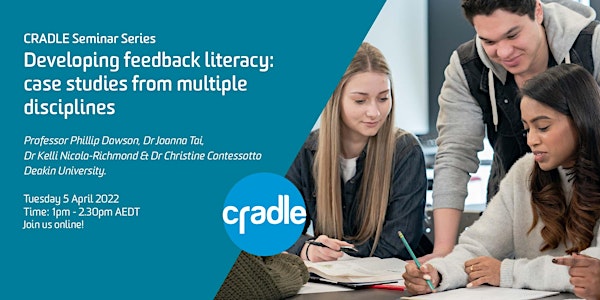 CRADLE Seminar Series: Developing feedback literacy
Sales Have Ended
Registrations are closed
Sorry, but registrations for this event have ended. To find out more about upcoming CRADLE events, visit our blog, www.blogs.deakin.edu.au/cradle
Join us to hear 'Developing feedback literacy: case studies from multiple disciplines' from CRADLE and the Faculty Development Partners.
About this event
In this presentation CRADLE's Prof Philip Dawson and Dr Joanna Tai along with Development Partners Dr Kelli Nicola-Richmond and Dr Christine Contessotto will discuss outcomes of the project investigating ways of improving student feedback literacy.
Feedback can be one of the most challenging parts of not just education, but of life in general. Seeking, providing, receiving, understanding and coping with comments about work is not always easy for students. Feedback can also be a significant challenge for staff, who often report that students do not even read assignment feedback comments, let alone action them. To try to address the problems of feedback, the literature has recently shifted to focusing on feedback literacy – the set of capabilities students need to make the most of feedback.
This seminar reports on the CRADLE Development Partners scheme, which was launched in 2019 to support implementation and innovation around key CRADLE concepts at Deakin University. The 2019 round of CRADLE Development Partners focused on improving student feedback literacy in units from all four Deakin faculties. Prior to the Development Partners scheme, CRADLE had published and supported pioneering conceptual and observational work into feedback literacy, but this project represented our first large-scale intervention work to improve student feedback literacy. The success of this initial pilot has led to sustained feedback literacy innovations, published research, and subsequent offerings of the CRADLE Development Partners scheme as part of CRADLE's annual collaboration funding.
This seminar will be of interest to:
Educators interested in ways to support their students to develop feedback literacy
Researchers and academic developers interested in new models of scholarly teaching practice and collaboration
Deakin academic staff considering participating in the CRADLE Development Partners scheme
Publications from the 2019 Development partners scheme
Tai, J., Contessotto, C., McBurnie, J., Nicola-Richmond, K., & Brown, P. (2021). The reciprocal nature of assessment-as-learning and feedback literacy: Case studies from higher education in Australia. In Z. Yan & L. Yang (Eds.), Assessment as Learning (pp. 257-269): Routledge.Nicola-Richmond, K., Tai, J., & Dawson, P. (2021). Students' feedback literacy in workplace integrated learning: How prepared are they? Innovations in Education and Teaching International. doi:10.1080/14703297.2021.2013289.

Professor Phillip (Phill) Dawson is the Associate Director of the Centre for Research in Assessment and Digital Learning (CRADLE) at Deakin University. His feedback research focuses on feedback design and feedback literacy. Phill has received four university-level teaching and learning awards, as well as a citation from the Australian Learning and Teaching Council. He was co-lead of the Assessment Design Decisions project and a chief investigator of the Feedback for Learning project. His most recent books include Defending Assessment Security in a Digital World and the co-edited volume Re-imagining University Assessment in a Digital World.
Dr Joanna Tai is a Senior Research Fellow at the Centre for Research in Assessment and Digital Learning (CRADLE) at Deakin University. Her research interests include inclusive assessment practices, student experiences of learning and assessment from university to the workplace, peer learning, feedback and assessment literacy, developing capacity for evaluative judgement, and research synthesis.
Joanna is a Senior Fellow of the Higher Education Academy, co-convenor of the Australian Association for Research in Education (AARE) Assessment and Measurement SIG, and is Treasurer for the Australian and New Zealand Association for Health Professions Education. Her doctoral work won the Association for Medical Education Europe (AMEE) inaugural PhD prize in 2016. She has a background in medicine and health professions education.
Dr Kelli Nicola-Richmond is Associate Head of School Teaching and Learning for Deakin's School of Health and Social Development. She is also currently the Academic Lead for Deakin's review of Assessment Policy and Procedures. Kelli is a Senior Fellow of the Higher Education Academy and CRADLE Fellow at Deakin. Kelli's research interests include feedback literacy, evaluative judgement, academic integrity in exams and the provision of work-ready health care graduates.
k.nicolarichmond@deakin.edu.au
Dr Christine Contessotto is the Associate Dean Teaching & Learning (ADTL) in the Faculty of Business Law, Deakin University. She has extensive experience in the tertiary sector, including 7 years at Monash, sessional teaching at RMIT and over 15 years at TAFE. Christine is a strong proponent of active learning, simulations, case studies, authentic activities, and assessment. Christine is a Senior Lecturer in the Department of Accounting. She is a Chartered Accountant having worked in audit and accounting roles before joining academia.
c.contessotto@deakin.edu.au