Description
Join Adelaide's vibrant coworking community for the launch of CoworkingSA

This event is part of Entrepreneurs Week and will give guests the chance to let their hair down after a busy week, and network with the leading change-makers and innovators of the local startup community.
Exhibiting on the night will be Adelaide's incubator and accelerator programs, providing a unique opportunity to meet this important part of the startup ecosystem face-to-face.
Tickets will sell fast, so secure yours now and invite your friends!


---

The Coworking South Australia Association ("CoworkingSA") is the first state-based representative body of its kind in Australia. There are more than 28 coworking businesses in South Australia; the highest number per capita in Asia. The Association works alongside the startup community, governments and councils to raise awareness of the coworking industry. We promote coworking as a catalyst for connectivity, innovation, creativity and business growth. We encourage collaboration between studios, and collaboration between the people who use coworking studios.
Achievements to date
Establishment of CoworkingSA as a not-for-profit entity
Set up a website directory, social media and communications
Facilitated collaboration between coworking spaces and their members
Significant increase in media coverage for coworking
Lobbied for coworking studios to be considered for inclusion in the Gig City rollout
Had a "Best Coworking Space" category added to NewsLimited's The City Awards
Survey question being included in the BDO State Business Survey
Worked closely with Government departments and City of Adelaide
Coworking Coconuts Ultimate Frisbee Team established; connecting coworking members through sport
Nominated for the Global Coworky Awards by the Global Coworking Un-Conference
---
Just for fun - #bigfacebox - come see what you'd look like as a Bobble Head !
The best way to explain "Big Face Box" is visually (see pic), but its a bit like a mobile photobooth that turns you into a giant bobble-head looking caricature of yourself. It's purely voluntary, but if you're up for it, our crew will be roaming the party for some #bigfacebox fun. Check it out for the first time in Adelaide at the CoworkingSA Launch Party.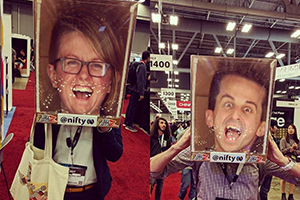 See you there!