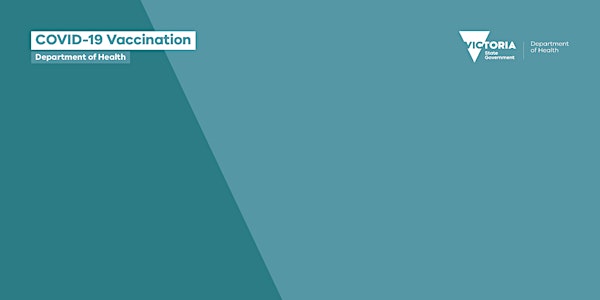 COVID-19 Vaccines Webinar - Your Questions Answered for Young People
Join Medical Pracitioners for an in-depth discussion about the COVID-19 immunisation program.
About this event
Hosted by the Victorian Department of Health, this webinar for young people is presented by medical practitioners and offers an in-depth discussion about the COVID-19 immunisation program and also an update on how to support your mental health.
Speakers:
Dr Anita Muñoz - GP and Chair of RACGP
Katia Pellicciotta (she/her) - Youth Engagement Resource Coordinator at Youth Affairs Council Victoria
Vikki Ryall - Executive Director of Clinical Practice at Headspace
Audience:
• Young People
Topics:
• Update on the Victorian COVID-19 Immunisation program
• Who is eligible?
• The benefits of COVID-19 vaccination
• The difference between COVID-19 vaccines
• How effective are the vaccines and how long will they last?
• What are the possible side effects and early symptoms of an adverse reaction and what should I do?
• Common concerns or misperceptions
• How to support your own Mental Health
Learning outcomes:
• Make an informed choice about getting the vaccine yourself
The information provided in this webinar is general in nature. If you have any questions about your health and getting the COVID-19 vaccine, please speak to your general practitioner or other health professional.
Due to audience size, please submit your questions upon registration.
If you are unable to attend your nominated session a recording will be shared post event to those who register.