Description
The biggest night of the year!! CORIUM 2017
BootCo is now in it's 27th Year and is presenting Queensland's premier all male leather and fetish dance party.
Members $35 Non Members $40
Buying at the door is $40 for everyone.
Lots of prizes and entertainment for all, so come along to one of the biggest and hottest events this year in brisbane put on by Boot Co. and sponsored by our major sponsor Lucrezia and De Sade and other sponsors are Number 29 cruise club, Haslam Consulting and accounting, Army of Men, The Sportsman Hotel and Black Rabbit
Sponsored by Lucrecia & DeSade this years Corium will be at Number 29 with doors opening exclusively to ticket-holders in a whole venue event from 6:30 pm till wee hours of the moring on September 9th 2017.
With a huge line up featuring DJ Buzz William, DJ NeddEbear and DJ Master Sergeant, there will be entertainment a plenty with the options of dancing the night away, playing in the upstairs area, visiting the pop up dungeon for something a bit kinkier, watching one of the several shows or even just kicking back and socialising with friends in the garden area.
A key feature of Corium is the announcement of Mr Queensland Leather 2017, with Lucrezia & DeSade returning as the main sponsor. This year we are also delighted to welcome Haslam accounts and consultancy as the new sponsor for Queensland Leatherboy 2017, with the winner for both being announced on the night.
Mr Queensland Leather is a prestigious title amongst the Australian Leather Community - we encourage men from all sections of the leather community to enter. This year also sees Queensland Leather Boy contiunes its journey to remain prestige competition with stages of competition rather than just an appearance onstage.
Providing a coat check service on the night is our returning corporate sponsor is Brisbane's first all male adult , Spunk'd who will also be trading late.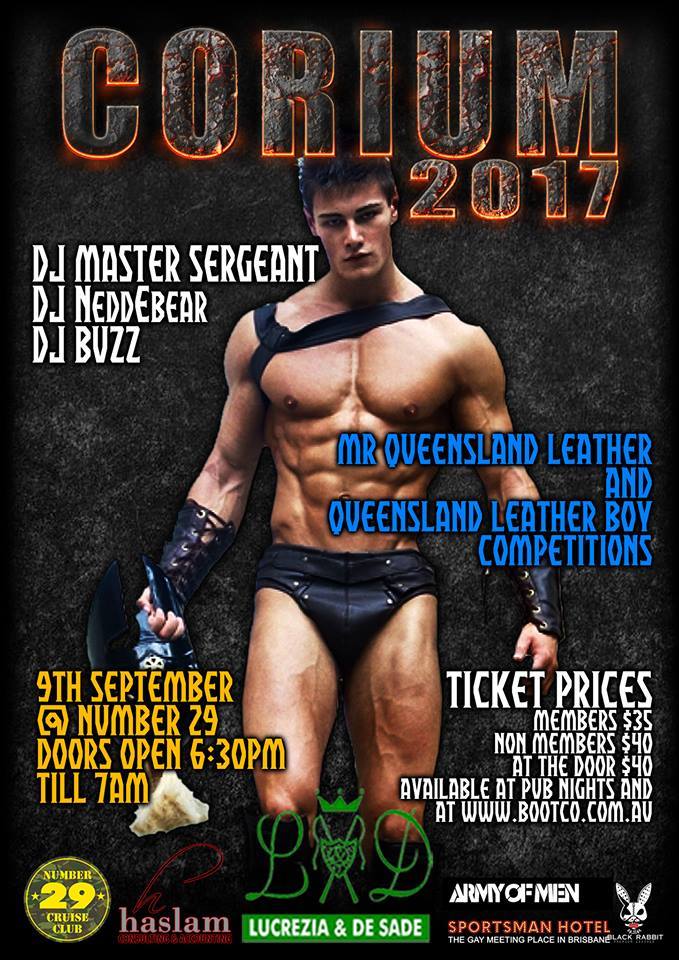 Members can buy tickets at Number 29 for $35 or Non-Members for $40 or get your tickets online.
Tickets at the door will be $40 - no member discounts are avaliable at the door.
Come along and see the competition and who wins MQL and QLB 2017 and party all night long