Join us on the eve of World Food Day, during Global Climate Change Week to celebrate our thriving fair food community!
About this event
Our actions are our future!
Get inspired, encouraged and nourished amongst other local fair food champions, as we connect and consider how we can make healthy and sustainable diets available and affordable to everyone.
The evening will feature a number of expo stalls, interactive demonstrations, the screening of the brand new and inspiring film 2040 (Damon Gameau, the director of That Sugar Film), and a panel of local guest speakers.
All while enjoying some local and ethically sourced food.
Connecting over Fair Food takes a "Contribute as you can" approach with all donations from the night supporting future Food Fairness Illawarra events to fuel the Fair Food conversation through events like this.
Places are limited, so bookings essential.
Achieving Sustainable Development Goal 2: Zero Hunger is more than just addressing hunger. And there are many opportunities to get involved in changing the food system together, so we look forward to connect with you.
Quote from last years' Connecting Over fair Food
"I liked the bringing together of passionate community members and groups. The range of speakers demonstrated the breadth of action that is happening in this area in our region. The expo stalls also demonstrated this and were set up in a good way that allowed you to easily circulate and speak to people. Of course, the food was delicious too!"
Get involved involved
If interested in hosting an expo stall / information display at our event re your fair food related activities, please get in contact with Berbel Franse (see below)
Getting to our event
In line with the Global Climate Change week agenda we like to encourage you all to walk, ride, catch public transport or carpool to this event.
Event Partners
This event is organised by Food Fairness Illawarra, with support from Shellharbour City Council, Kiama Municipal Council, Illawarra Shoalhaven Local Health District, University of Wollongong and Healthy Cities Illawarra.
Disability access & more info
The event is accessible for people with a disability and supports will be provided upon request by COB Monday 7th Oct. Contact Berbel Franse (berbel@healthyillawarra.org.au or 02 4283 8111).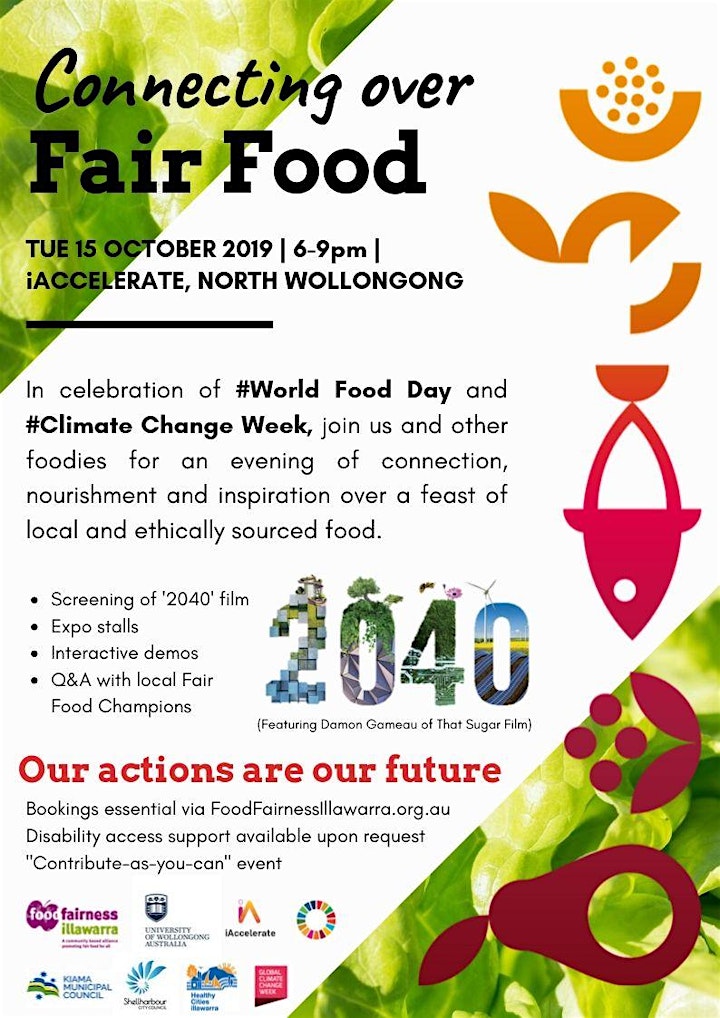 Organiser of Connecting over Fair Food
Food Fairness Illawarra, a community coalition that has worked together since 2005 to make healthy and sustainable food affortable and accessible for all. Guided by representatives from six key organisations (Illawarra Shoalhaven Local Health District, Wollongong City Council, Kiama Municipal Council, Shellharbour City Counci, University of Wollongong and Healthy Cities Illawarra), FFI has a wider network of over 1000 individuals, community groups, charities and non-government organisations. All who recognise the need for collaboration between community, industry, and governments to unlock fairer food solutions. 
Key activities of Food Fairness Illawarra:
1.  Connect – facilitate local connections between FFI community members to support knowledge transfer and resource sharing.
2.  Advocate – highlight local issues and lobby with FFI community members for food fairness at a local policy and planning level.
3.  Build capacity – support the development of skills and knowledge of FFI community members.
4.  Educate community - drive the fair food conversation across all levels of society to increase local awareness, understanding and participation.
5.  Research – contribute to the evidence base to progress food fairness and build a more resilient local food system.