Learn how to plan, decide, prioritise for sustainable business growth for your ecommerce business.
About this event
Connect the Dots._._._✍️
Get ahead of 2022 and maximise Christmas 2021 by turning your reactive decisions into clear plans for your ecommerce business.
Join us for our first half-day workshop offering insights and lessons on sustainable business growth. In a world of opportunities, we'll help you tie up loose ends and prioritise your activities for maximum efficiency and an unbeatable competitive advantage.
Led by four inspirational speakers who will pass on their domestic and international experiences in turning small businesses into >$100m businesses.
Delivered over 4 sessions, you will hear how to work on your strategy, planning for milestones, brand & marketing as well as how to implement change efficiently.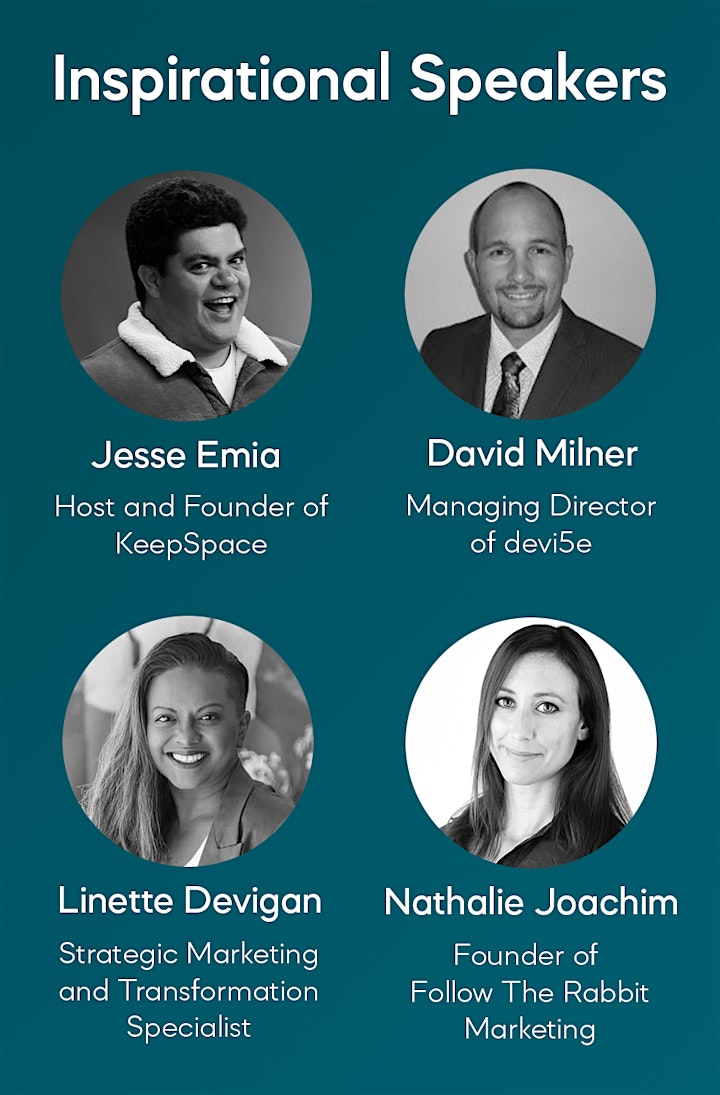 ✍️ Jesse Emia - Host and Founder of KeepSpace
Running 2 businesses in the past before, Jesse comes to the workshop to share his over 15 years of experience in business management, company development, product development, sales and marketing.
Come listen and learn from Jesse on how to focus on your goal strategies and being able to execute effectively. Jesse has been able to build up a company with integrity and honesty on strong fundamental business practices that have seen his business grow from 0 to 3 million dollars in turnover. Take advantage of this opportunity to avoid the pitfalls he faced as he shares with you the most important things to get to your first million dollars in transactions.
✍️ David Milner - Managing Director of devi5e Pty Ltd
David's extensive experience as owner and General Manager of several fast-growing businesses over the last two decades make him an outstanding strategist and business coach. Whether it's start-ups, fast growth or acquisitions, he's been there, done that – hands on! David's previous stint as a senior project manager is a great add-on when it comes to planning and prioritising.
His career path ultimately led David to devi5e Pty Ltd in the management, scientific, and technical consulting services industry. As the general manager there, he now specialises in management support and overall business development.
✍️ Linette Devigan - Strategic Marketing and Transformation Specialist
Linette Devigan is a Strategic Marketer and Transformation Specialist with over 15 years of broad range of experience in leadership, marketing, strategic communication, marketing management, events management, brand, strategic management and leadership experience working with businesses of all sizes including multi-national corporations and government.
Linette specialises in leading transformative and engaging brand, communication and business development programs, including events management, sponsorships, public relations and digital marketing, for clients across a range of industries.
✍️ Nathalie Joachim - Owner of Follow The Rabbit Marketing
Having studied and worked in Europe and Australia, Nathalie brings over 15 years of domestic and international marketing experience to this workshop. In her most recent role, she led Sea to Summit's marketing and eComm teams with a stunning track record of international growth, as well as the company's Australian distribution business consisting of 30 imported brands like CamelBak, Black Diamond, Jetboil and BioLite to name a few.
While her background is in the outdoor and action sports industry, Nathalie specialises in strategic consulting, internationalisation and prioritising for all industries. 'Follow The Rabbit' is her first official venture into the consulting world and she is excited to support Aussie businesses in their growth.
The Agenda._._._✍️
Join us at Quest South Perth Foreshore to clarify your business vision. Make new connections within Perth's ecommerce community too!
Elegant morning tea and tasty lunch will be served. 🫖☕️🍪🥪🍗
Agenda:
8:30 Meet and Greet over coffee & pastries
9:00 Jesse Emia: Introduction
9:10 David Milner: Connecting the structure - strategy, planning and KPIs
9:45 10-minute break
9:55 Jesse Emia: Practical application of OKRs and KPIs
10:30 10-minute break
10:40 Nathalie Joachim: Connecting branding, digital marketing and Ecom
11:15 10-minute break
11:25 Linette Devigan: Connection implementation – implementing change and creating operational efficiencies
12:00 Vote of thanks and closure by Jesse
12:30 Finish and move onto Lunchtime
Whether you're in need of perspective, inspiration or are a little stuck along the way, this event is right for all small ecommerce business owners, managers and business starters.
Places are limited. REGISTER TODAY!
Organiser of Connect the Dots - Ecommerce Focus and Growth