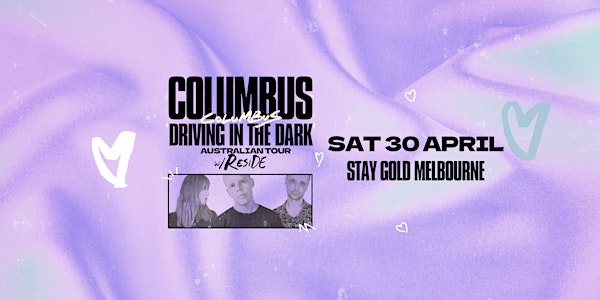 Columbus 'Driving In The Dark' Tour
Location
Stay Gold
133 Sydney Rd
Brunswick
Melbourne, VIC 3056
Australia
Columbus 'Driving In The Dark' Tour
About this event
Columbus are today ecstatic to announce their 'Driving In The Dark' EP Tour, in support of their forthcoming release and off the back of the national success of singles 'Pain Is A Mirror', 'Temporary Summer' & 'Full Heart'.
The tongue-in-cheek, emotive rockers from Everywhere, Australia (seriously, they're not all scattered up & down the East Coast), will be hitting Sydney, Brisbane, Wollongong, Melbourne & Adelaide for their first run of headline shows in over 4 years.
With their highly anticipated new EP 'Driving In The Dark' due out next Thursday 24th March, the 'Driving In The Dark' EP tour will be kicking off on Saturday 9th April at Sydney scene staple Crowbar.
Current single 'Full Heart'' will be one of many songs on the Columbus setlist for their upcoming national tour - a run of shows Moses says "is going to be special. "We've never turned our amps up to 11 before, but this time we're actually going to do it."
Bassist Lauren Guerrera adds "This tour has literally been in the works for 2 or 3 years but has continually been pushed back due to the state of the world. The thought of touring again still feels like a distant dream, so catch me crying over having a bit of normality back at every show, probably."
Joining the band at all shows will be Melbourne emo-rockers Reside, off the back of a stellar 2021 which saw the band land support from Spotify, triple j & a coveted UNIFY Gathering festival slot.