Description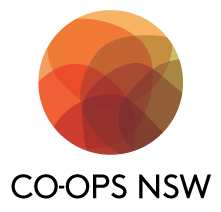 Co-ops NSW is proud to present its 2018 Conference to be held on Friday 22 June 2018 - Hosted by the UTS Centre for Business and Social Innovation (UTS/CBSI).
Co-operative Sectors – Co-ops NSW Conference 2018
Co-ops NSW has designed the 2018 Conference to build the capacity of co-operatives in NSW and stimulate co-operative learning and innovation.
Co-operatives originated in periods of market scarcity and disruption - what's old is new again. The 2018 Co-ops NSW Conference has drawn together a national and international selection of speakers to discuss the challenge of co-operatives in the new economy. The ingredients are nurtured, served and packed with values ... co-operatives are stirred by a vibrant community of members fresh for tomorrow's challenges.
The core one day 2018 Conference keynote speakers include:
Lieza Dessein -
SMart
, société mutuelle pour artistes (Belgium)
Established as a not-for-profit co-operative in 1998 in Belgium, SMart is now operating in 9 European countries with 85,000 members and 170 full time staff. SMart has changed the narrative for independent "freelance" workers and challenged the impact of the disruption model.
Peter Martin – Fairfax Media, Economics Editor for the Age & ABC Broadcaster
Highly acclaimed economics journalist & broadcaster, Peter Martin's passion is explaining economics simply. Peter will address the economic challenges for co-operatives in a contemporary economy, and perceptions in the media.
Walter (Wally) Newman, Co-operative Bulk Handling (CBH) Group Chair
CBH is Australia's largest co-operative and a leader in the Australian grain industry, headquartered in Perth with offices in Japan, Hong Kong and Russia. Wally tells the story of CBH and the 4,200 Western Australian grain growers who withstood a demutualisation contest and a further challenge of the co-operative's non-distributing (NFP) status that went all the way the High Court.
Hon Matthew Kean MP, NSW Minister for Innovation and Better Regulation
Continued ...
---
2018 Conference focus
Co-operative principles are applied internationally to multiple segments that make up the co-operative movement. Co-operatives for producers, consumers, as buying groups, in housing, services, the financial sector and many more are just some of the broad spectrum of co-operative activity. Feedback from Co-ops NSW members has said it is time to look at the capacity, synergy and cross benefits of the collaborative businesses of our co-operative sectors ... the Co-ops NSW Conference 2018 focus is "Co-operative Sectors".
Conference image
Co-operatives are sometime perceived as old fashioned but what is old is new again. The cake is a metaphor recognising the importance of traditional values while acknowledging contemporary challenges. The image sliced invitingly into segments demands attention. Co-operatives offer quality ingredients, nurtured, blended and packed with values freshly baked with vibrancy for today and tomorrow!
Timing & Location
Fri 22 June (9am-4:30pm)

Co-ops NSW

Conference 2018

UTS Wing Chak Building, Ulimo Road, Ultimo
Note: The Conference is followed by Networking Drinks 4:30pm-6pm

# Note: Registration includes attendance to Co-operative Community Sector Forum (Sat 23 Jun)
Additional Events:
Thu 21 June: Co-operative Director Professional Development Workshop

Sat 23 June:

Community Co-operative Sectors Forum
Conference Supporters
Co-ops NSW acknowledges the generous support of the following contributors to the 2018 Conference and associated additional events:
UTS/Centre for Business and Social Innovation (CBSI) - Conference Host

Yenda Producers Co-operative - Co-operative Director Professional Development Workshop

Common Equity Housing (CEH-NSW) - Community Co-operative Sectors Forum

Business Council of Co-operatives & Mutuals (BCCM) - Bursary Progam
Bursary Registration:
Via the generosity of project associates including the Business Council of Co-operatives and Mutuals (BCCM), limited free registrations are available to individuals (and organisations) who may not have the resources to be part of the Co-ops NSW Conference 2018 without assistance.
Simply register your interest via the Conference Bursary Register (below) and we will contact you:
Bursary Registrations are open until Midnight Friday 15 June 2018.
Additional Information:
Conference Webpage: https://conference.coopsnsw.coop/
Early Bird Registration:
20% discount is offerred for registration prior to 11:30pm Thursday 31 May ... Book Now!