Description
Connect.. Collaborate.. Co-Create..
Calling all Melbourne stylists and bakers and memory-makers!
Join us as we launch into the new year with another exciting day of inspiration, networking and workshopping as like minded events entrepreneurs gather to connect, collaborate and co-create.
We can't wait to talk sugar with the incredible Alisha Henderson of Sweet Bakes and to continue on from the awesome content created at our last workshop, we have the fabulous Leah of Leah Ladson Photography who will be teaching us all about composition, lighting and has some great tips for those of us just using our phone cameras, as well as those using DSLR's.
The program includes;
Get Social with Cherie, The Digital Picnic

Getting Down To Party Buisness with Alisha of Sweet Bakes, Nicci of Frosted by Nicci and Miranda of Sweet Sticks
Interactive Flatlay Photography Workshop by

Leah, Leah Ladson Photography
Lunch will be catered, and presentations will include question time, during which time you are invited to pose questions and gain insights into your own businesses to help build your empire.
Bring along your own products (be it cakes, cookies, props, toppers, stationary – the only limitation is how much you can carry!) to create content or utilise the products of others on the day to build a catalogue of images for the months ahead.
We will be focusing on content for Valentine's Day, Easter and Mother's Day, with suggested colour palette's to be released shortly.
We look forward to meeting and re-connecting with Melbourne's creative clique, and build a network of event professionals looking to co-create with likeminded entrepreneurs.
Date – Wednesday 6th February 2019
Location – St Hotel, 54 Fitzroy St, St Kilda VIC 3182
Time – 9:30am through to 3:00pm
Parking – http://fitzroystreetstkilda.com.au/uncategorised/parking-around-fitzroy-street/
What do I wear – Whatever you are comfortable in, stilettos to sneakers, just be ready to move as we sit, shimmy and style our way through the day.
What do I bring – Your amazing, creative self, samples of your product, or products you want to style with on the day (suggested colour palettes will be released shortly) and your phone / camera to capture your flat lays and document the day.
Special Dietary Requirements? Just let us know, and we'll do our best to accommodate.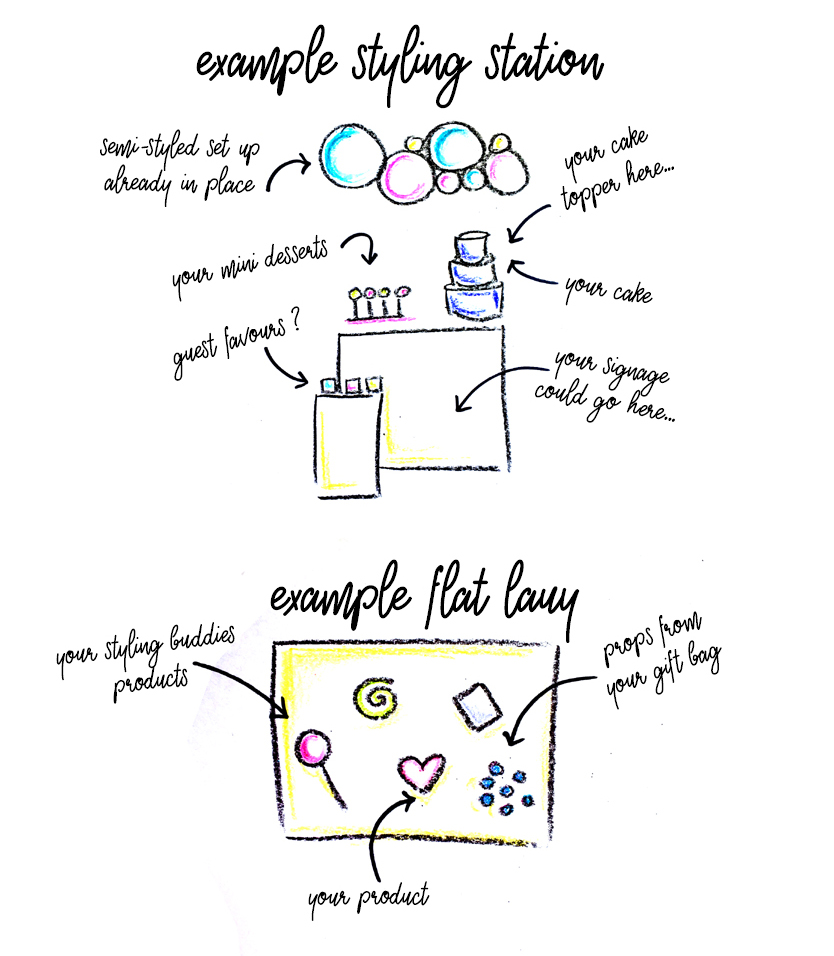 Please note, there will be photographs and/or video that will be taken throughout the duration of the workshop. By taking part you grant the event organisers full rights to use the images, and any reproductions or adaptations of the images for fundraising, publicity or other purposes to help promote sponsors and future workshops and events. This might include (but is not limited to), the right to use them in printed and online publicity, social media, press releases and funding applications. If you do not wish to be photographed please do not hesitate to advise the event orgainiser, Megan Ftouni.