Description
Are you excited about the potential for clean energy technologies to improve lives? Are you interested in setting up a business or social enterprise to address the growing energy needs of South East Asia?
Come up with an idea for deploying clean technologies in developing countries and win a trip to Cambodia!
---


About Climathon
Climathon is a global, 24-hour climate change event which will take place simultaneously in major cities around the world. It brings together an important challenge with people who have the passion and ability to solve them. Participants gather for 24 hours to engage in a climate-related problem-solving workshop. Citizens around the world take direct climate action in their own cities by coming up with innovative solutions to local climate change problems.
---
The Sydney Climathon Theme:
How can we facilitate clean energy access in developing countries?
Developing countries are facing an ever-growing energy demand and with developments in solar, batteries, the internet of things, blockchain, artificial intelligence and other technologies, new possibilities arise. Just as mobile phones enabled rapid progress in communication and internet access, new energy technologies could create a step change in access to electricity and unlock economic opportunities.

This year Sydney's Climathon will focus on facilitating clean energy solutions in developing countries - using Cambodia as the testbed. Bringing talent across Sydney both inside and outside the energy industry - can we come up with ideas that could be applicable in Cambodia to support leapfrogging the centralised and fossil fuel dependent system to provide access to affordable, reliable and clean energy for all?
---
The Challenges
1. Energy Access
The Royal Government of Cambodia's energy plan will ensure energy access for 70% of all households by 2030, leaving 30% of households without access to the grid. Pico-solar and solar home systems have been deployed in Cambodia over the last decade. PAYG technologies and mobile money are being explored. However costs, quality and access have made nailing the right business model elusive. What solutions might we be able to imagine to provide clean energy access for those who won't be served by the grid?
2. Incorporating distributed solar energy into the grid
Despite the cost of solar being highly competitive, solar integration into the grid in the main cities is mostly behind the meter with minimal or no export thanks to a lack of policy incentives and utility reticence. Net metering may be allowable in the foreseeable future. Most of the focus to date has been large industrial parks/users to secure PPAs, such as the 3MW solar installation at the Coca-Cola factory. What technologies or business models could be developed to tap the rest of the smaller and mid-range market?
3. Cleaner industry
The garment industry is central to the Cambodian economy and the source of employment for thousands of families in Cambodia. Garment factories have electricity and thermal heat needs for dying and processing - what renewable options could be used to power these and other industries, such as ice factories or brick kilns?
4. Clean transportation
Traffic and transportation-induced pollution is a substantial economic, health and environmental issue in the capital Phnom Penh. Public transportation is quite limited - recent Uber style mobile apps have helped customers link in with taxis and tuk-tuks although these are all predominantly fossil fuels and doing little to alleviate congestion. What solutions could solve these problems?
5. Clean Energy, Agriculture and Water
What opportunities exist in the nexus between agriculture, water and energy? Solar irrigation pumping to replace diesel run water pumps are just starting to take off - water storage and solar are neat compliments to daily solar variations. What business model or financing innovations could be explored to expand this rapidly? Household biogas systems are proving very popular in Cambodia and the region thanks to the work of SNV and Australian startups such as ATEC Biogas are gaining traction. Rice husk gasification and industrial biogas systems have been explored and implemented. What other innovations, ideas or business models could applied across these sectors?
An information pack summarising the market and renewable energy context in Cambodia will be provided prior to the event. This will help bring you up to speed with existing projects, companies and recent developments so you can identify the gaps and develop your business or social enterprise idea.
---
Prizes
Prizes include:
A trip to Cambodia to test and explore your idea, meet renewable energy companies, and experts working to support clean energy development

Three months free membership in EnergyLab's co-working space in Sydney

A guaranteed placement in EnergyLab's Springborad program to further develop your ideas

A free consultation with a KPMG accountant to provide R&D, tax and investment advice

A free consultation with Marque Lawyers to provide legal advice on setting up your organisation
---
Key Information
Where: EnergyLab, Building 25, 4-12 Buckland St, Chippendale NSW 2008
When: Friday 27th October, 5:30pm - Saturday 28th October, 5:30pm AEDT
Who: Students, entrepreneurs, designers, engineers, hackers, business professionals, and anyone else interested in setting up a business or social enterprise to increase the use of clean energy both in developing countries. Both individuals and existing teams are encouraged to register.
Info: Info pack and resources released Friday 20th October
Cost: Free and all meals provided!
---
Why participate?
Come up with the next big idea for a cleaner energy future in developing countries

Meeting like-minded people

Win great prizes, including a trip to Cambodia for you and your team to explore the application of your ideas

Have fun!
---
Agenda
Friday 27th October
5:30pm: Arrive and have something to drink and eat

6:00pm: Overview of the next 24 hours and presentations from subject-matter experts. Team formation and planning.

7:00pm: Networking dinner

9:00pm: Go home and rest
Saturday 28th October
8:00am: Breakfast

9:00 am: Overview of the day and one minute presentations from each team

9:30am: Start work

12:30pm: Lunch

4:00pm: Presentations due

4:15pm: Presentations start

5:15pm: Break while judges deliberate

5:30pm: Winners announced

5:30pm: Drinks
About the organisers


EnergyLab
EnergyLab is Australia's leading platform for launching new energy businesses. Our integrated approach draws on the community of clean energy entrepreneurs and offers a range of ways to engage and leverage their ideas, technologies and resources.


Climate-KIC Europe
Climate-KIC is Europe's largest public-private innovation partnership, working together to address the challenge of climate change. Their aim is to drive innovation in climate change through creative partnerships large and small, local and global, between the private, public and academic sectors
Climate-KIC Australia
Climate-KIC Australia is an independent organisation that was established with Climate-KIC Europe's support to bring their proven model to Australia. Climate-KIC Australia is creating a community of researchers, businesses, entrepreneurs, investors, governments, and communities to implement systemic, innovative and demand-led climate change solutions. They work to harness the opportunities and address the challenges of climate change by connecting key players across the whole innovation pathway.

---
Our Sponsors
A big thank you to Marque Lawyers and KPMG for sponsoring prizes.
Our Partners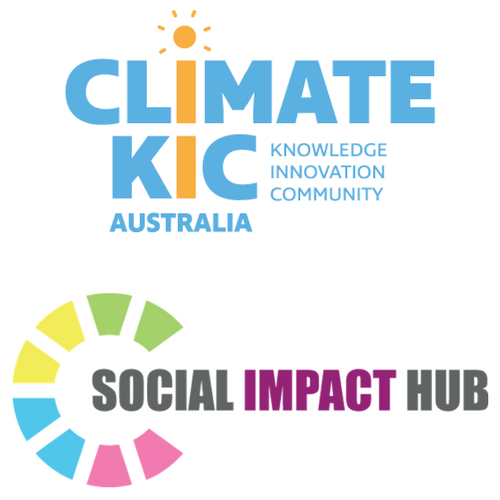 ---
Volunteers needed!
If you don't want to participate, but are interested in helping out (either in the lead up to the event, or on the day), please email Sarah at sarah@energylab.org.au.