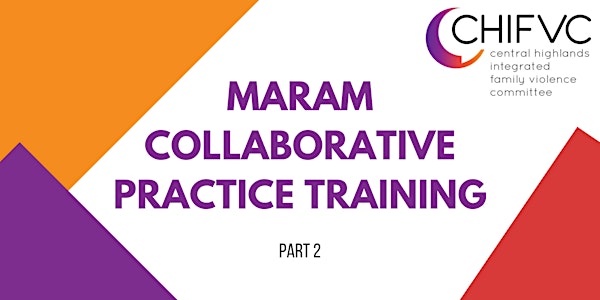 CHIFVC MARAM Collaborative Practice Training - Part 2
The MARAM Collaborative Practice training focuses on both collaborative practice and foundational aspects of MARAM that enable collaboration
About this event
*Please note, this is Part 2 of a two-part training*
The MARAM Collaborative Practice training focuses on both collaborative practice and foundational aspects of MARAM that enable collaboration. It is required training for all MARAM-prescribed workforces. The training enables participants to contribute to risk assessment and collaborate for ongoing risk management, through respectful and sensitive engagement with victim survivors, information sharing, referral and secondary consultation. This is not risk assessment or risk management training, and is best undertaken following completion of your Basic, Intermediate or Comprehensive Risk Assessment Training (please see https://www.vic.gov.au/training-for-information-sharing-and-maram#maram-training for more details).
Central Highlands Integrated Family Violence Committee (CHIFVC) is providing free MARAM Collaborative Practice training sessions to all prescribed and to-be-prescribed organisations in the Central Highlands region (includes the LGAs of Ballarat, Ararat, Hepburn, Pyrenees, Golden Plains and Moorabool).
Training will be held ONLINE using Zoom and is split into two parts, which participants must complete within the same month. Each week, we will run a morning and afternoon session for each part, accessible via Eventbrite. The morning session will run from 9.30am - 12.30pm, and the afternoon from 1pm - 4pm. Please make sure you enrol in both Part 1 and Part 2.
Outcomes of the Training include:
• A greater understanding of the MARAM framework
• Ability to identify what collaborative practice is
• How to use collaborative practice in your daily work
• How to develop a collaborative risk management plan
• How information sharing can assist with collaborative practice
Central Highlands Integrated Family Violence Committee (CHIFVC) provides leadership, advocacy and specialist expertise to strengthen, integrate and improve the family violence system and help end family violence across Victoria's Central Highlands. By delivering this training, we are focusing on putting the 'multi-agency' into MARAM. You can find more information on CHIFVC through our website: http://chifvc.org.au/
Find Part 1 of this training here: http://bit.ly/CHIFVCMARAMP1
PLEASE NOTE: Eventbrite emails maybe caught by your email filter. If you do not receive tickets immediately after registering, please check your spam folder and/or white list eventbrite.com.au