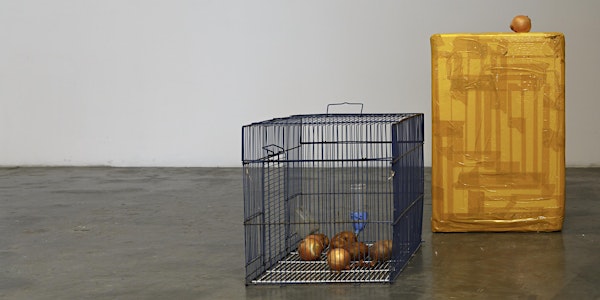 CHANGEMAKERS #1: Mapping Sustainability in the Visual Arts - SYMPOSIUM
Location
Victorian College of the Arts
Southbank, VIC 3006
Australia
Sales Have Ended
Registrations are closed
Thank You to those who registered. For those who missed out - see you next year! And follow us here for updates: https://www.facebook.com/ArtCuratorship/
Description
CHANGEMAKERS #1: Mapping Sustainability in the Visual Arts (Symposium + Workshop)
Note: This Page is to register for Symposium tickets ONLY. Student workshop tickets are now sold out. Please contact acp-projects@unimelb.edu.au to be added to the waitlist.
In a world bringing daily change in society, politics and culture, the next generation of artists, curators and arts professionals need to think about new ways to build sustainable careers.
We face a growing cultural anxiety in Australia as existing arts infrastructures and models are getting weaker and no longer seem effective. Cultural innovation is needed to rethink the interaction between individual and collaborative practice, organisations and educational institutions, government funding bodies and the private sector, and participation in international marketplaces.
By generating new dialogues and momentum around these issues, CHANGEMAKERS #1 looks to stimulate possible new approaches and professional opportunities framed in the Australian (local) and international (global) context.
CHANGEMAKERS #1 will bring together key people in the field who are focused on fostering change and new models of arts and cultural practice, and even more importantly - those who are seeking a sustainable future where emerging artists, curators and arts professionals are placed at the forefront.
Across two days, CHANGEMAKERS #1 will comprise of a symposium and a student-centred workshop, where we have asked speakers to question:
What they think artists need to know and do to thrive and survive;
What do we need to change in cultural policies to create a more positive future for the arts;
How do they see arts and culture developing in the next decade;
What actions can we take now to see our vision realised in the future?
This is the first of an on-going series of annual events investigating and responding to the vital issues that impact the livelihood of our arts and cultural sector. It is here that student artists, curators, and arts professionals can make an impact - with the Victorian College of the Arts at the vanguard of this important conversation.

Note: Tickets for each of these events are FREE and must be ordered separately. The symposium is open to the public and students, and the workshop for students only. See below for further details.
---
DAY 1: SYMPOSIUM
Date: Friday April 20th, 2018
Registration: From 9.30am
Time: 10:15 am - 17:45 pm
Location: Federation Hall, VCA. 5/7-17 Grant St, Southbank VIC 3006
Note: This symposium is FREE and open to students and the public.
Broken down into six distinct themes, six leaders in the arts will discuss their present circumstances and future vision. With an introduction by Dr. Rachel Marsden, Lecturer in Art Curatorship at the University of Melbourne, speakers include:
Patricia Piccinini - Artist and Enterprise Professor, Victorian College of the Arts [website]
Alexie Glass-Kantor - Curator and Executive Director, Artspace, Sydney [website]
Corbett Lyon - Collector and Architect, Lyon Housemuseum [website]
Esther Anatolitis - Executive Director, National Association for the Visual Arts (NAVA) [website]
Caroline Chernov - Chair, VCA Access [website]
Anita Archer - Director, Pegasos5 [website]
[This symposium has been convened by Dr. Rachel Marsden and Patricia Piccinini.]
---

DAY 2: WORKSHOP
Date: Saturday April 21st, 2018
Time: 10:30 am - 17:00 pm
Location: The Octagon, Police Stables (Upstairs), VCA (Building 873-G01)
[NOTE: This is for 30 students only - 15 VCA (Honours and MCA) and 15 Masters in Art Curatorship students, from The University of Melbourne. Tickets are available separately, below. Please select your ticket accurately. RSVP required.]
This one-day workshop aims to develop and explore ideas put forward in the symposium by the next generation of artists, curators and arts professionals.
Here, student participants will focus on discussing their individual and mutual artistic and curatorial practices and research interests through speed networking, skills exchange sessions, collaborative project development and the implementation of a mentor/alumni programme.

Additionally, acknowledging that there is little interaction on campus and during studies between the two student bodies at the VCA and The University of Melbourne, this workshop wants students of the arts to address the gap between them and work towards developing long-term relationships - which are vital to a thriving local to international arts community.
From the day, two proposals will be selected to take place in the real-world through funded support from ACP PROJECTS (Art Curatorship Partnership Projects). This is an exciting and practical opportunity for students to develop their professional networks, skill-sets, and portfolios.
The workshop will be led by a guest TBC with support from Patricia Piccinini (artist) and Dr. Rachel Marsden (academic, curator and arts writer).
Full programme to be confirmed. Refreshments will be provided throughout the day.


---
For more information, please contact:
acp-projects@unimelb.edu.au
Join in online: Please engage in discussions through social media Twitter @acp_projects and Instagram @acp_projects. Also, use the hashtags #acpprojects #changemakers to show your support for this event and desire for real change in the arts!
---
Image credit: Turtle Dove (2017) curated by Nicholas Kleindienst at Verge Gallery, Sydney. Image shows 'Untitled' (2017) by Dominic Sargent. Cages, packing tape, styrofoam, cardboard, potatoes, onions, orange, birdfeed, hamster wheel, water dispenser, mirror, and plastic toys, Dimensions variable. Image by Document Photography.