Description
About the Course
Agile has become overly decorated. Let's scrape away those decorations for a minute, and get back to the center of agile."
Simply saying, "Collaborate. Deliver. Reflect. Improve.", already says most of what you need to say and do. Each one unpacks into unendingly complicated skills, actions, tools, and all. Each is rich with nuance. And still, we can fold back up all the nuance and complications, and remind ourselves: "Collaborate. Deliver. Reflect. Improve."
If you're starting off with agile, get off to the right start with this 2 day course.
If you've been on your agile journey for a while, Alistair will help you strip back the layers that you and your organisation add to obscure the core of Agile, and revitalise your outlook.
About Certification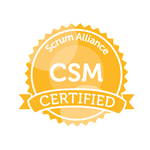 This course is a Scrum Alliance, Certified Scrum Master Course. Established in 2003, the CSM certification is a globally recognised accreditation from the Scrum Alliance. It is by far the most popular Agile training offering worldwide. After completingthe CSM training course, there is a online CSM certification exam.
Course Instructor
Dr. Alistair Cockburn, one of the original creators of the Manifesto for Agile Software Development was voted one of the "The All-Time Top 150 i-Technology Heroes" in 2007, for his pioneering work in use cases and agile software development. An internationally renowned IT strategist and author of the Jolt award-winning book "Writing Effective Use Cases", he is an expert on agile development, use cases, process design, project management, and object-oriented design. Articles, talks, poems and blogs are online at http://alistair.cockburn.us.
FAQ