Sales Have Ended
Registrations are closed
Thank you for registering, we look forward to seeing you on the 20th of May. Any questions, please email awards@clinicaltrialsalliance.org.au
Event Information
Location
Melbourne Convention Exhibition Centre (MCEC), Clarendon Auditorium and Foyer
2 Clarendon Street
South Wharf, VIC 3006
Australia
Sales Have Ended
Registrations are closed
Thank you for registering, we look forward to seeing you on the 20th of May. Any questions, please email awards@clinicaltrialsalliance.org.au
Celebrating International Clinical Trials Day, collaborative events hosted by Australian Clinical Trials Alliance and MTPConnect
About this event

Clinical Trials 2021: National Tribute and Award Ceremony
5.00pm - 7.00pm AEST
Australian Clinical Trials Alliance (ACTA), together with event partners, will mark the biggest date on the clinical trials calendar, International Clinical Trials Day on Thursday 20 May 2021.
Join us in honouring the remarkable Australians who advance our health system by designing, conducting, or participating in ground-breaking clinical trials, and promote the importance of clinical trials and the expertise and complexity of the work involved.
Alongside the ACTA Trial of the Year Award, we present the ACTA STInG Excellence in Trial Statistics Award and the ACTA Consumer Involvement Award. The ceremony will include announcement of winners and presentations from keynote speakers and will be followed by a networking event, providing an opportunity for interaction between some of Australia's leaders in the clinical trial sector. We are delighted to be joined by Professor Anne Kelso AO, NHMRC CEO.
We look forward to seeing you at the Clinical Trials 2021: National Tribute and Award Ceremony. This will be a great opportunity to get together and celebrate the outstanding achievements of all who advance clinical practice and save or improve the lives of patients every year.
Clinical Trials 2021: National Tribute and Award Ceremony Partners and Supporters: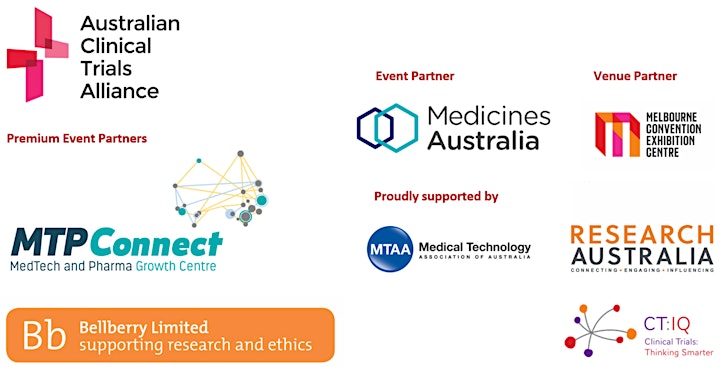 MTPConnect Launch of the 'Clinical Trials in Australia' Report
3.00pm - 4.00pm AEST
Join MTPConnect for the launch of the 'Clinical Trials in Australia' report, an important update to the report which was first published in 2017 and has served as an essential reference for the sector.
Initially focusing on the economic profile, the competitive advantage, and impediments of the sector, the earlier report addressed Australia's position in the global marketplace of clinical trials. This new report reveals that state of play in the clinical trials sector today including progress of initiatives that were underway in 2017 and emerging opportunities and issues that should serve as priorities for the future growth of the sector.
To mark the report launch, MTPConnect is hosting a panel session - "Clinical Trials in Australia: opportunities for growth" - with sector experts to coincide with its support of ACTA's National Tribute and Award Ceremony. Please register to join us on Thursday, 20 May 2021 from 3-4pm (followed by refreshments) at Clarendon Room, Melbourne Convention and Exhibition Centre (MCEC) prior to the start of the Ceremony or register to join the live webcast link.
The Panel facilitated by MTPConnect Managing Director and CEO Dr Dan Grant includes the following guests:
• Dr Megan Robertson, Group Chief Research Officer for St Vincent's Health Australia, and Chair AusBiotech Clinical Trial Advisory Group
• Carrie Bloomfield, Director, Clinical Operations, GlaxoSmithKline Australia and Co-Chair of the Industry supported R&D Task force
• Professor John Zalcberg, ACTA Board Chair and Head, Cancer Research Program, School of Public Health & Preventive Medicine, Faculty of Medicine, Nursing and Health Sciences, Monash University; and Consultant Medical Oncologist, Peter MacCallum Cancer Centre
• Dr Janelle Bowden, Managing Director, AccessCR
• Dr Rebecca Tunstall, Senior Director Stakeholder Engagement MTPConnect
Photo Consent
By attending the event, you acknowledge and agree for ACTA to use footage it captures at the event for marketing and promotional activities and for any other lawful purpose in the ordinary course of its business, including, but not limited to, website, social media accounts, and promotional materials, either digital or in print.
COVIDSafe Event Plan
After a year of unprecedented changes to the way we meet, we are delighted to be able to celebrate the awards in person. ACTA has measures in place with MCEC to provide a safe and secure environment for ACTA Community and to ensure the event is COVIDSafe. Please click here to view the MCEC VenueSafe Plan and to see how we are keeping you safe.
Date and time
Location
Melbourne Convention Exhibition Centre (MCEC), Clarendon Auditorium and Foyer
2 Clarendon Street
South Wharf, VIC 3006
Australia