Description
Join us for an evening of inspirational speakers, stories of transformation and infectious live music.
Over the past 20 months Climate for Change has pioneered a new way of reaching and engaging people sympathetic to climate change but not deeply engaged - to help them understand what is at stake, what needs to be done and what they can do. And we've had remarkable results.
However, to see the level of action that we all know needs to happen, we must take our work to the next level. We have an ambitious plan to expand our reach and our activities this year, but if we're going to succeed, we need you.
This event will kick off a six week crowdfunder to raise the funds to realise our plan. Last year we beat our target and raised over $150,000. This year, we are aiming for a massive $165,000. It's a huge goal, but if we launch well, we are confident we can achieve it.
So come and celebrate with us all we have achieved in such a short time and help us launch our biggest ever crowdfunding campaign with a bang!
Places are limited and will fill quickly, so reserve a free ticket here now so as not to miss out.
Tickets are free. Meals and drinks will be available at bar prices.
Donations to the crowd funder on the night of $100 or more will be eligible for a range of thank you gifts only available at this event.
We can't wait to see you there!
Introducing our speakers and band...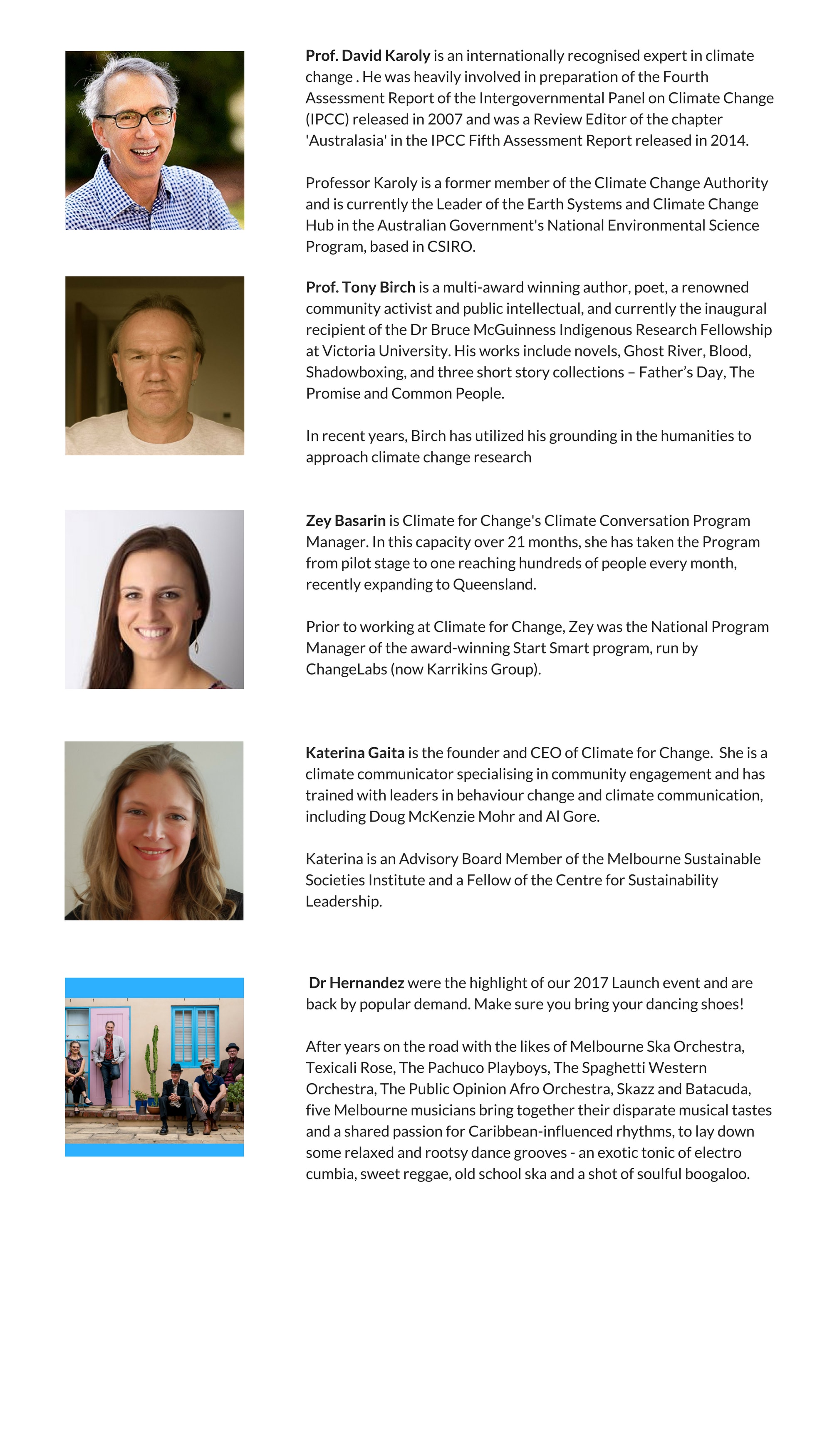 Organiser of C4C 2018 Crowdfunder Launch
Climate for Change's mission is to create the social and political will for the action we need to fix climate change.
We do this by helping everyday people who already support such action to have effective conversations with people in their networks to get them on board too.
Our flagship program uses the Tupperware party model to reach and engage new audiences.
Over the past 2.5 years we've engaged over 6,000 people in face to face conversations.

We are the only organisation in Australia specifically focussed on helping people to have conversations with their peers on climate change – something that is now being recognised by experts as key to building public support for the action we need on climate change.
For more information visit www.climateforchange.org.au.