Description
Brought to you in partnership with The Sun Bistro, this family-friendly festival will feature 20+ of the finest breweries and over 75 craft beers and ciders as well as local food trucks and live entertainment for that quintessential Byron vibe.
FAQs
WHAT DO I GET FOR THE PRICE OF MY TICKET?
Your General Admission Ticket includes:
4 free sampling tokens for beer or cider

A reusable festival cup for you to keep

Exclusive festival brews

Meet the brewers that have created these fantastic beers!

Live Brewing demonstration

Live entertainment

Games, prizes and raffles

Kids entertainment
Are there ID or minimum age requirements to enter the event?
All paid ticket holders must be 18 or over. This is a family-friendly event so please bring along your kids as we'll have activities for them. Children will not require a ticket but must enter and be accompanied and supervised by a ticket holder who is their parent or guardian at all times.
Will there be gate sales?
Gate sales will be available if not sold out. We recommend getting your tickets online in advance, as this will speed up entry into the event.
Are there tokens?
All beer and cider sales at the festivals are through a token system. 'Beer tokens' will be available for purchase at the event. You can use cash and EFTPOS to purchase tokens at $2.50 per token. There will also be ATMs on site.
HOW MUCH ARE THE DRINKS AT THE FESTIVAL?
Pricing of drinks will be at the discretion of the stallholders.(there will be minimum pricings for tastings)
WHERE IS THE FESTIVAL?
The Sun Bistro Byron Bay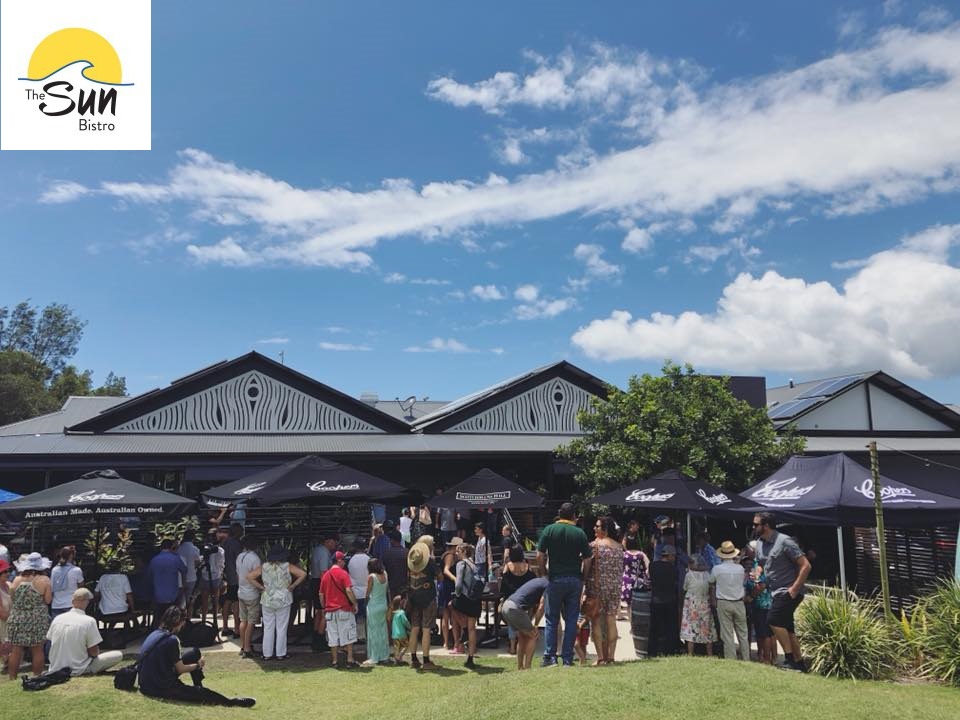 WILL THERE BE ANY FOOD AND NON-ALCOHOLIC BEVERAGES AVAILABLE?
There will be a variety of food, water, juices and soft drinks available for purchase onsite. Complimentary water stations will also be provided.
Should I bring my printed ticket to the event?
You can bring your printed ticket or mobile version.
Will there be parking and other transport?
There will ample parking at the nearby Elements resort overflow carpark that will be signposted and marshalled by charity volunteers for a gold coin donation. You can also hop on the world's first solar-powered train from Byron Bay town centre to the festival site.
How can I contact the organiser with any further questions?
hello@byronbeerfestival.com.au
Ticketing and Event Terms & Conditions
The term 'Patron' in these Terms and Conditions includes any person who, at any time, holds, purchases or otherwise acquires a ticket to the Byron Bay Craft Beer & Cider Festival 2018.
The term 'Event' refers to the Byron Bay Craft Beer & Cider Festival 2018.
The term 'Event Organiser' refers to the Byron Bay Craft Beer & Cider Festival.
Patrons must at all times be in possession of a valid event ticket.
Patrons are to be of the legal age to consume alcohol (18 years and over).
Due to the nature of the event, Proof of age may be requested in line with liquor licencing requirements. Failure to produce proof of age may result in the patron being refused entry and their ticket forfeited.
Minors (under 18 years) are to be accompanied by a parent or legal guardian and are not to consume any alcohol whatsoever.
The Event Organiser reserves the right to confiscate beer and/or cider and/or tasting tokens held in possession by minors and ask them to leave the event.
Patrons are subject to the Liquor Control Reform Act 1998.
No alcohol, food or drinks are to be brought into the event.
Tickets are not transferable.
Tickets are not to be duplicated for the purpose of falsifying entry.
Refunds are available at the discretion of the Event Organiser.
The Event Organiser reserves the right to refuse entry.
The Event Organiser reserves the right to search bags.
Any persons who are intoxicated, threatening or unruly towards event staff or other patrons will be asked to leave the festival grounds.
Patrons are to understand their own limits and drink responsibly. The Event Organiser takes no responsibility for injuries to patrons related to the consumption or misuse of alcohol.
The event Organiser has all rights to film, photograph and video the event.
Patrons are responsible for the safety and security of their own personal property and hereby release the Event Organiser from any liability for loss or damage to any personal property brought into the Event.
The Event takes place outdoors, so conditions may vary and patrons will be exposed to direct sunlight and heat. Patrons should take appropriate care for their own wellbeing at the Event including hydration and sun protection.
This is an all weather event; preparations will be made by the organisers should inclement weather be forecast; refunds will not be possible due to inclement weather.
If the event is cancelled due to unforeseen circumstances, a refund (less booking fees) will be issued to all patrons.
Refunds are not available for this event
Any data collected for marketing purposes from this event will be strictly in accordance with the Privacy of Information Act.
A valid ticket is your Proof of Purchase.
Patrons who pre-purchase one or more tickets and do not attend the event will forfeit their purchase; a refund will not be offered by the Event Organiser.
The event is designated a smoke free event. A designated smoking area will be available at the discretion of the Event Organiser; alcohol will not be able to be consumed within this area.
Tickets have been created and managed using the Eventbrite service, and are also subject to the Terms and Conditions of Eventbrite.com.
The Event Organiser and all stalls serving alcohol will practise RSA 'Responsible Service of Alcohol' at all times
Patrons must not:
Remain at the Event grounds outside the published closing times of the Event.
Enter / exit the Event other than through a designated entry or exit.
Enter any fenced or cordoned off area.
Promote any advertising, promotional material, hawk, sell, offer for sale any goods or services or collect money or orders from Patrons for goods and services.
Misuse, deface, damage, or tamper with any building, equipment or property.
Litter.
Refuse to follow any reasonable direction issued by the Event Organiser, Event Staff or Security personnel.
Smoke in a designated 'non smoking' area.