Multiple Dates
Bush Kids Kindy - Friday- A Nature Play Program In the Central Coast - Te...
Description
Come and join Bush Kids Kindy at Kariong Eco Garden for some Nature Play Fun! Explore, play and learn in nature with our experienced Nature Educators. Jump, climb, build, make and create in a safe and supported bushland environment at Kariong Eco Garden. Through self-directed play, and nature based activities, children will develop their empathy and resilience skills as well as learning to work with others. This program enables children to feel comfortable in nature and to form a connection to their local area. They will broaden their understanding of the natural world and develop a sense of wonder. Parents will also gain the confidence and skills to get their kids out in nature on a regular basis. It's the best place to be!
NEW Nature Journaling! Parents may,if they wish, bring along a scrapbook or journal for their child. They will be able to add to this throughout the term. The scrap book may be any size or shape you wish, there are no specified requirements.
Age: 2-5 years old
Location: Kariong Eco Garden, Dandaloo Street, Kariong.
Dates: Fridays (3 weeks in Feb)

Times: 9.30am -11am
Price: $10 per session

Special notes: This is an outdoor activity, please bring clothes that are old and suitable for the weather conditions: Hat, sunscreen, closed in shoes, wet weather coat, gum-boots. We will only cancel in high-winds and electrical storms, in the event of cancellation we will email participants. If your child has a sibling under 2 you may bring them along, however the activities are developmentally appropriate for children 2 and over. Parents must stay with their children throughout the duration of the activity.
Important: We reserve the right to CANCEL if we do not reach 10 FAMILIES on each day, please enrol early to ensure places.There is a maximum of 15 participants for each day.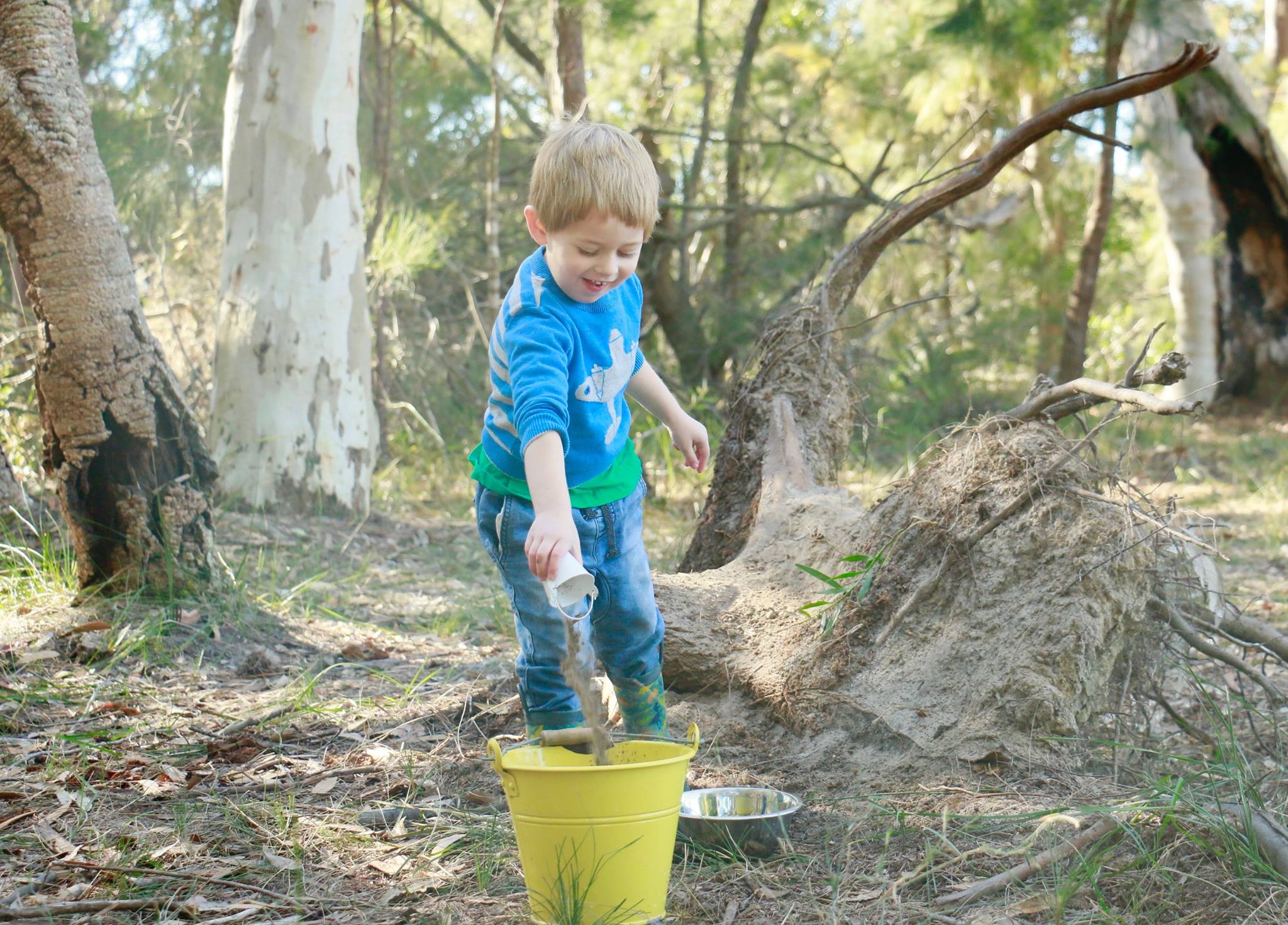 FAQS
What do children do at Bush Kids Kindy?
The Bush Kids Kindy is run by trained Educators and follows the Forest School philosophy where children are encouraged to engage in free play in a natural setting.The sessions are loosely structured with the aim to provide opportunities for free play through the use of springboard activities. These sessions may include games, songs, stories, loose parts play, insect hunting and cubby building.
Are there toilets nearby?
Yes there are public toilets in the adjacent park.
What clothes do the kids need to wear?
All participants are encouraged to dress for the weather. Sun hats and sunscreen are recommended. Enclosed shoes will protect feet. Come dressed to sit on the ground.
Is it cancelled if it rains?
No, the aim of Bush Kids Kindy is to allow children to feel comfortable in nature, what ever the weather. We also have the opportunity to stay under cover in the eco garden if needed.
Can I bring more than one child?
The cost of the activity covers yourself and one child who is 2-5 years old. If you have more than one 2-5 year old or are bringing other people's children, then you will have to pay for them separately and we suggest a maximum of three children per adult/carer.
Will the children be doing craft activities?
Generally the activities will be about exploring and playing in the natural setting. Sometimes this will include the use of clay or other natural materials, but there is not a focus on craft during these sessions.
Is there anywhere for the kids to eat morning tea or lunch?
Although we will not be including food breaks in our programs, we do encourage participants to bring snacks. The outdoors is one of the best places to sit and have a bite to eat. We don't stop for snack breaks but allow our participants to eat when they are hungry or even on the go (depending on the snack of course, lollipops not recommended).
How can I find out more?
Please join our Central Coast Bush Kids Facebook Group to find out more and to stay up to date with announcements and details of the event. Cut and paste the link below;
https://www.facebook.com/groups/1821922688033353/?ref=br_tf