Description
The November Tour was so popular that we are back by demand. We are coming back around Australia in January 2018...Get your tickets now!


Join Rossco Paddison and get started with Cryptocurrencies!
Break into Bitcoin is a fun workshop-style training to upskill you fast on everything you need to know to get started investing in new money technologies!

Cryptocurrencies are the wave of the future, savvy investors and industry disruptors KNOW it's time to get started NOW!
Starting Time:
Day 1:
Registration begins at 9:00am & Doors Open at 9:30am
Finishes at 6:00pmish
Day 2:
Starts at 9:30am
Finishes at 6:00pmish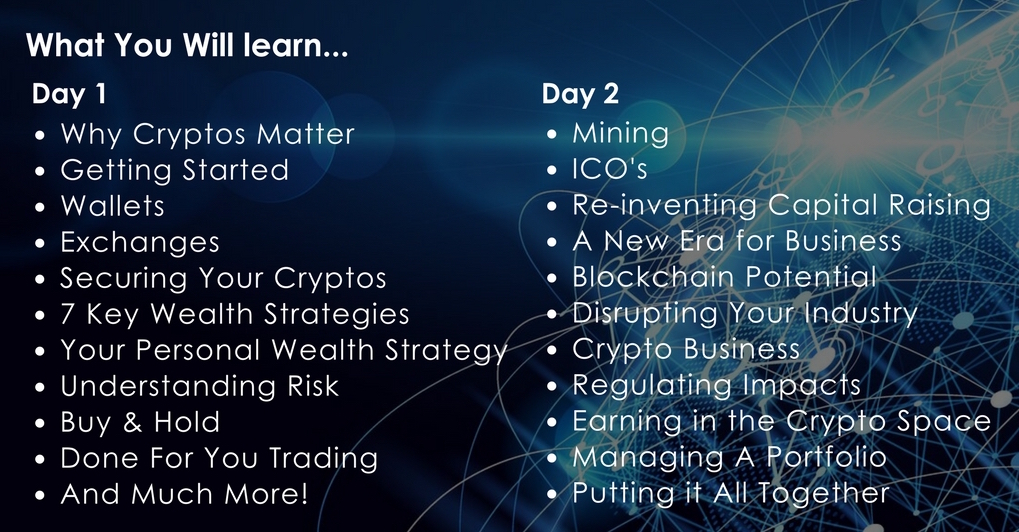 About Rossco Paddison
Your trainer Rossco Paddison is an entrepreneurial futurist. Having owned many businesses including Profit Spaces, GatherChange and more. Over the past 10 years he has inspired from the stage, mentored and worked with thousands of startups, business owners and not for profits to discover their direct path to the results they're looking for. Rossco works closely with a handful of one on one with clients to help them grow and scale their futuristic businesses.
Rossco values innovative and futuristic thinking and is always on the cutting edge of new ideas and technologies. He loves to share his knowledge to help clients automate their businesses in order to work more profitably, and teaches business strategies that are effective and proven to increase the bottom line for the entrepreneurs and innovators he mentors.
---
FAQs
Are there ID or minimum age requirements to enter the event?
We suggest the content and experience will be most useful for those aged 13 and up.
What time should I arrive?
The event will start from 9.30am, with registration and doors open from 9.00am.
What can I bring to the event?
Here are our suggestions:
An open mind
A water bottle
Something warm if the room gets cold
How can I contact the organiser with any questions?
You can email the Awesome Events team at team@myawesomeevents.com.
Can I attend the event without pre-booking my place?
No.
Seats at this event are strictly limited by the venue capacity - all participants must be pre-registered (including guests) before the start of the event. Contact us at team@myawesomeevents.com if you have any challenges with preregistering your guests.
---
Important Notes
NOTE: This is NOT a course on investment strategy & the facilitator is NOT giving financial advice. All attendees take responsibility for their own financial decisions & agree that this is a volatile, emerging market. We strongly recommend that all your personal investment decisions are based in alignment with your own personal wealth strategy, investment priorities & your risk tolerance.

** Does not include any cryptocurrency investment funds – you will need to allocate an amount of funds to invest, transfer and use to transact during the event.
REGISTER NOW!!
This event is not to be missed, tickets are strictly limited by the venue capacity so we recommend that you register early to avoid missing out.
We look forward to seeing you there!