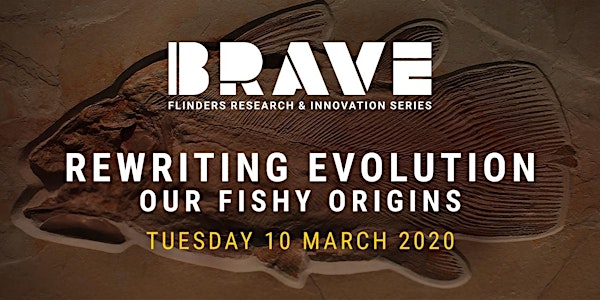 BRAVE | Rewriting Evolution – Our Fishy Origins
Location
Alere Function Centre, Flinders University
Registry Road
The Hub, Level 2
Bedford Park, SA 5042
Australia
Join globally renowned Flinders' own Strategic Professor of Palaeontology, Professor John Long, as he presents the first 2020 Brave Lecture
About this event
For the past two centuries, the key evolutionary narrative has been about how humans evolved from apes. Whilst this part of our history is well-documented from many fossils remains, it is only the end part of our much grander story. The beginnings of the human body plan, along with many of our intrinsic behaviours, first appear much deeper in time.
The Brave lecture will see Professor Long discuss his thesis that the big steps in human evolution took place well before fishes left the water to invade land. This research provides a new perspective on humans' evolutionary story; a story which comes from looking up from the water's edge, not looking down from the trees.
Followed by a panel discussion with:
Associate Professor Paul Willis, founder and CEO, Media Engagement Services
Associate Professor Diego Garcia-Bellido, University of Adelaide and South Australian Museum
Dr Alice Clement, Postdoctoral Research Associate, Flinders University
Take an exclusive behind-the-scenes tour of the world-class Flinders Palaeontology Lab and fuel your passion for uncovering long-buried secrets. Tours of the Palaeontology Lab will be conducted before and after the lecture leaving from Alere Function Centre. There are limited spaces available so please register when you purchase your tickets.
Speaker Bio:
John Albert Long (born 1957) is an Australian paleontologist who is currently Strategic Professor in Palaeontology at Flinders University in Adelaide, South Australia. He was previously the Vice President of Research and Collections at the Natural History Museum of Los Angeles County. He is also an author of popular science books. His main area of research is on the fossil fish of the Late Devonian Gogo Formation from northern Western Australia. It has yielded many important insights into fish evolution, such as Gogonasus and Materpiscis, the later specimen being crucial to our understanding of the origins of vertebrate reproduction.
His love of fossil collecting began at age 7 and he graduated with PhD from Monash University in 1984, specialising in Palaeozoic fish evolution.
He has held positions at;
Australian National University (1984–85, Rothmans Fellow)
The University of Western Australia (1986–87, Queen Elizabeth II Award)
The University of Tasmania (1988–89, ARC Fellow)
Curator in Vertebrate Palaeontology at the Western Australian Museum (1989–2004)
Head of Sciences at Museum Victoria (2004–2009)