Event Information
Location
Bargoonga Nganjin, North Fitzroy Library
182-186 Saint Georges Road
Fitzroy North, VIC 3068
Australia
Get ready to RUN to celebrate the launch of Nat Amoore's new book!
About this event
Join us to launch We Run Tomorrow by Nat Amoore with art by Mike Barry in the Community Room at Bargoonga Njanjin!
If you've never had the joy of attending a Nat Amoore event, then you don't want to miss out!
We're excited that Mike Barry will be at the event too! His illustrations make this book NEXT LEVEL!
Thank you to Yarra Libraries for hosting this event.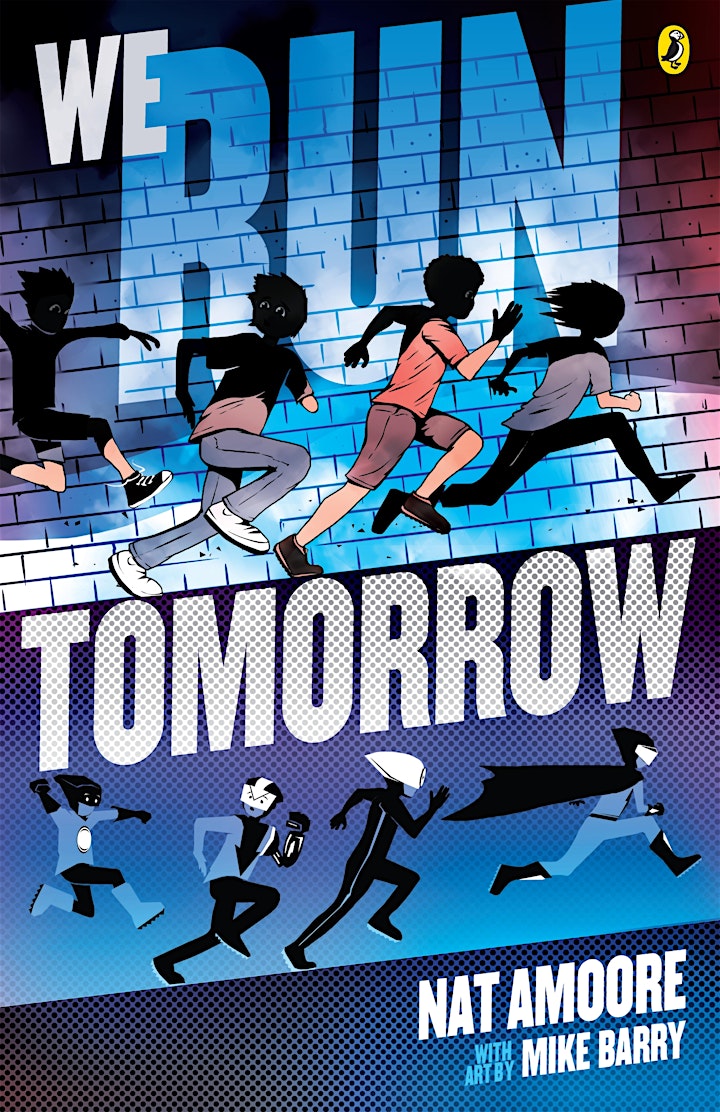 About the book:
You can run from your past, but the future is tomorrow . . .
Tonight, we're gonna kidnap our best friend. And tomorrow? We run.
Sticks, Maki, Jed and Tommy live on the same street. But the adults around them are making decisions that could tear the four friends apart.
When they discover their favourite comic book series is being made into a blockbuster movie, they know what they have to do. Get to the audition. Get the parts. Stay together.
Bestselling author Nat Amoore joins forces with acclaimed graphic novelist Mike Barry to bring you a story of four kids – and four superheroes – who are taking their future into their own hands.
Nat Amoore is a Sydney-based children's author and kidlit podcast host of One More Page. Her debut novel, Secrets of a Schoolyard Millionaire, came out in 2019 and has had great success as both Dymocks and QBD's 'Kids Book Of The Month', becoming Australia's #1 bestselling debut Aussie children's fiction in 2019. It has now sold into the UK, US, Italy, China, Estonia and Romania. Her second book, The Power of Positive Pranking, released in 2020, was shortlisted for the 2021 Readings Children's Book Prize and REAL Children's Choice Book Awards, and won the Environment Award for Children's Literature. Rounding out Nat's trilogy about the kids of Watterson Primary, The Right Way to Rock was released in June 2021. In 2021, Nat wrote a 5-part fiction podcast series called Project ARI for Nova Entertainment and the Australian Government as part of the #StopItAtTheStart campaign. Project Ari has been nominated in two categories at the Australian Podcast Awards. Coming in 2022 will be We Run Tomorrow, written by Nat and featuring graphic novel-style illustrations from Australian illustrator Mike Barry.
About the illustrator:
Mike Barry is a writer and illustrator from Sydney's Northern Beaches. He created, crowd-funded and self-published the first two books in his middle-grade graphic novel series, Action Tank, which have been shortlisted for multiple literary awards including the NSW Premier's Literary Awards, Russell Prize for Humour Writing for Young People, Aurealis Awards and Comic Arts Awards of Australia. The first Action Tank book was also included in the NSW Premier's Reading Challenge, and earned Mike a mentorship in the CBCA Maurice Saxby Creative Development Program. In 2022 Mike joined forces with bestselling author Nat Amoore to illustrate We Run Tomorrow, a story about four kids - and four superheroes - who are taking their future into their own hands.
Date and time
Location
Bargoonga Nganjin, North Fitzroy Library
182-186 Saint Georges Road
Fitzroy North, VIC 3068
Australia