Description
Pan Macmillan Australia and Neighbourhood Books invite you to join us for the launch of The Book of Ordinary People by Claire Varley.
Raise a glass in celebration with us!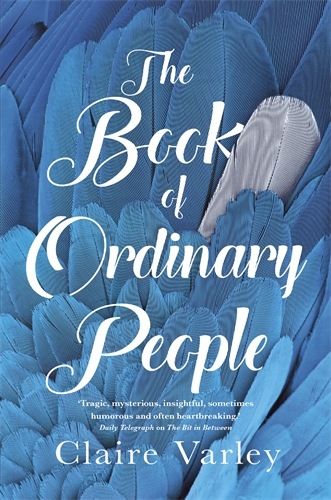 ABOUT THE BOOK OF ORDINARY PEOPLE:
A grieving daughter navigates the morning commute, her mind bursting with memories pleading to be shared.
A man made entirely of well-cut suits and strictly enforced rules swims his regular morning laps and fantasises about his self-assured promotion.
A young lawyer sits in a fluorescent-lit office, typing indecipherable jargon and dreaming of everything she didn't become.
A failed news hack hides under the covers from another looming deadline, and from a past that will not relent its pursuit.
And a young woman seeking asylum sits tensely on an unmoving train, praying that good news waits at the other end of the line...
In this charming, moving and affectionate novel, Claire Varley paints a magical portrait of five ordinary people, and the sometimes heartbreaking power of the stories we make of ourselves.
ABOUT THE AUTHOR:
Claire Varley lives in Victoria, Australia on Wathaurong country. Her debut novel The Bit in Between was published in 2015. Her fiction and non-fiction work has appeared in many places, and she has coordinated community development projects in Australia and overseas, including remote Solomon Islands and with refugee and asylum seeker communities in Melbourne's outer north.
Organiser of Book Launch: The Book of Ordinary People by Claire Varley
Neighbourhood Books is a new-born independent bookstore curated to nourish the local community.
We house a range of new fiction, non-fiction and children's books, prioritising local writers, artists and publishers. Our knowledgeable and friendly staff are eager to talk books and share recommendations with all who will listen!
Ours is a 'profit for purpose' - we will be reinvesting our resources into developing an events program that brings the community together and supports the literary sector. We are bibliophiles and believe that people and books are two of the world's greatest assets.
Interested? Join our mailing list to be invited to be on the invitation list.
Our ambition is for Neighbourhood Books to be an inviting space to spend time in - for a browse, for a chat, for a meet-up or a meet-and-greet.
All are welcome, and we want to get to know everyone. This bookshop is for YOU, and we want it to reflect your values.
We hope you enjoy watching Neighbourhood Books evolve as much as we are enjoying building it.