Description
You are warmly invited to join us for the launch of Secrets of a Schoolyard Millionaire by wonderful debut author and all round entertainer, Nat Amoore.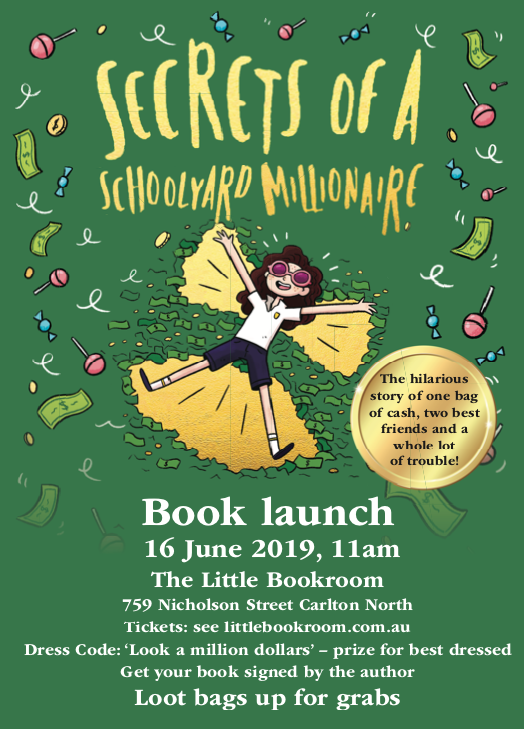 ***
ABOUT THE BOOK
The hilarious story of one bag of cash, two best friends and a whole lot of trouble.
Finding a million dollars in your backyard - every kid's dream, right? That's what me and my best friend Toby thought too.
Jumping castles at school. Lollipops for our adoring fans. Wearing sunglasses indoors ('cos that's what all the millionaires do).
There's a lot you can get with a million dollars . . . including a whole lot of trouble.

Bonus tips on how to be a schoolyard millionaire inside!
ABOUT THE AUTHOR
Nat Amoore is a writer who is passionate about encouraging kids to read, write and explore their imagination without boundaries. With a background in writing for screen, she wrote and directed international award-winning short film Elemenopee and has a feature film screenplay and a kids' TV series in development. Nat was a recipient of the CBCA Maurice Saxby Creative Development Program for 2018. In February 2018, Nat (along with fellow hosts Kate and Liz) launched kidlit podcast One More Page(onemorepagepodcast.com), which was a finalist in the 'Best Newcomer' category for the 2018 Australian Podcast Awards. The podcast has featured in publications such as Books+Publishing, Buzz Words and the SCBWI AUS&NZ newsletters.
Organiser of Book Launch: 'Secrets of a Schoolyard Millionaire' by Nat Amoore