Location
Bondi Pavilion
Queen Elizabeth Drive
Bondi Beach, NSW 2026
Australia
Description
The Bondi Beach Latin American Festival - Sun 17 Mar 2019
Held at the iconic 'Bondi Beach Pavilion'
The longest running Latin Festival in Australia is back again starting with a vibrant parade along the world famous beach front at 11am, followed by a fun fiesta in the sun with the best of Sydney's latin influenced live bands, dance schools (free dance lessons all day), traditional folkloric performance groups, DJ's, latin food, bars, crafts, arts, clothing market stalls, and much much more across 6 arena's.
-----------------------------------------------------------
TICKET OPTIONS:
Single entries:
Limited presales at $20 + booking fee SOLD OUT
Limited presales $25 + booking fee SOLD OUT
Final Release $30 + booking fee (tickets on door $35, save $10 with presale)
Family tickets 6 people: 2 senior citizens, 2 Adults, 2 kids Ages 13+ ($100 + booking fee)
Kids under 12: free entry (accompanied by adult)
Seniors 65+ : $20 + booking fee
Parade participants please send email to parade@bondilatinamericanfestival.com.au
COMMITTEE MEMBERS (Official Hard Ticket resellers)
Chris Duff (Eastern Suburbs) T: 0410075114
Ana Victoria (Inner West) T: 0425480507
Daniela Zambrano (Northern Beaches) T: 0466838124

DJ Asado (Fairfield) T: 0420867622
-----------------------------------------------------------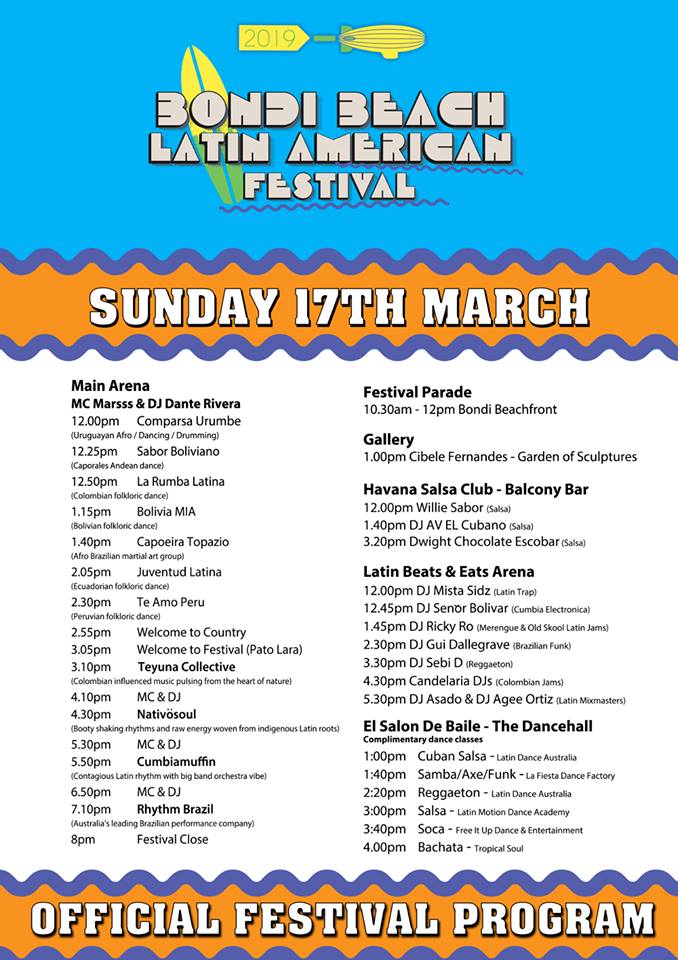 MAIN ARENA: Hosted by MC Marrs Official DJ Dante Rivera. (Includes Market Latin Village).
Comparsa Urumbe, Sabor Boliviano, La Rumba Latina, Bolivia MIA, Capoeira Topazio, Juventud Latina, Teyuna Collective, Nativosoul, Cumbiamuffin & Rhythm Brazil.
FESTIVAL PARADE : If you were not part of it last year! Then now is your chance email us on parade@bondilatinamericanfestival.com.au
EL SALON DE BAILE - THE DANCEHALL : Free dance lessons Cuban Salsa (Latin Dance Australia), Samba/Axe/Funk (La Fiesta Dance Factory), Reggaeton (Latin Dance Australia), Salsa (Latin Motion), Soca (Free It Up Dance & Entertainment), Bachata (tropical Soul).
LATIN BEATS & EATS ARENA : home to our much loved Food stalls & Market stalls alongside a special DJs: DJ Mista Sidz (Latin Trap), DJ Senor Bolivar (Cumbia Electronica), DJ Ricky Ro (Meregue & Old Skool Latin Jams), DJ Gui Dallegrave (Brazlian Funk), DJ Sebi D (Reggaeton), Candelaria DJs (Colombian Jams), DJ Asado & DJ Agee Ortiz (Latin Mixmasters).

HAVANA SALSA CLUB - BALCONY BAR : A Balcony overlooking Bondi Beach, with DJs playing SALSA tunes.
DJs: Willie Sabor, DJ AV El Cubano & Dwight Chocolate Escobar.
GALLERY:
Cibele Fernandes - Garden of Sculptures
This event will sell out so make sure you are a part of it, rain hail or shine! it's 40+ years of Latin American Culture on the best beach in Australia. This is a festival packed with events for the whole family.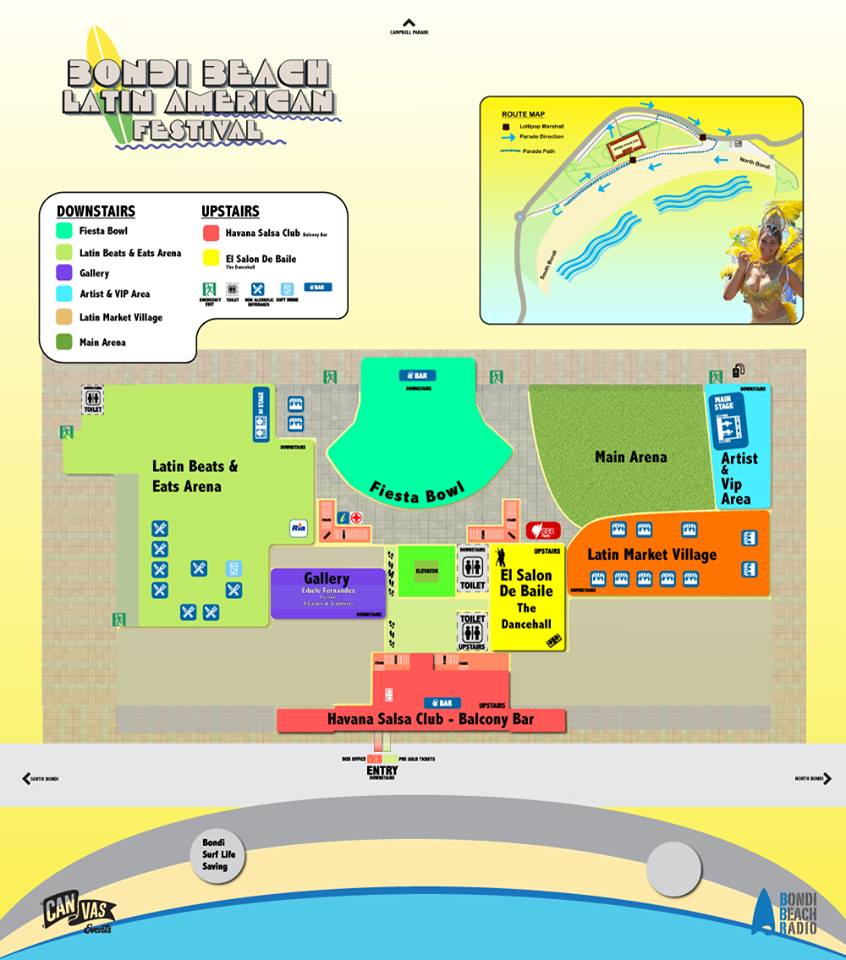 ONCE TICKETS PURCHASED, NO REFUNDS AVAILABLE!
Do you want to be involved? Contact Us:
We need volunteers, market stalls, folkloric groups, videographers & photographers.
Volunteers please send expressions of interest to:
volunteer@bondilatinamericanfestival.com.au
Stall Holders please send your information to:
stallholder@bondilatinamericanfestival.com.au

info@bondilatinamericanfestival.com.au
http://bondilatinamericanfestival.com.au/