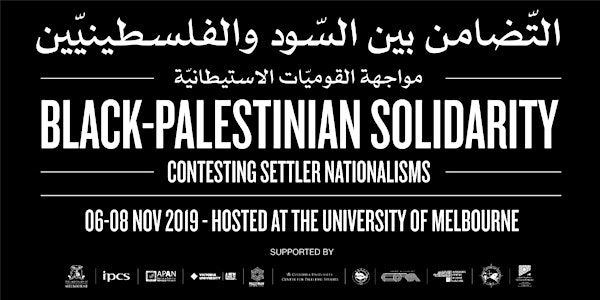 Black-Palestinian Solidarity Conference Melbourne 2019
Location
Brown Room, University of Melbourne
Wilson Avenue
Building 193
Parkville, VIC 3010
Australia
Refund policy
Refunds up to 1 day before event
Eventbrite's fee is nonrefundable.
Sales Have Ended
Ticket sales have ended
The Black-Palestinian Solidarity Conference Melbourne 2019 will be a powerful convergence of ideas, art and transnational solidarity.
About this event
It is our pleasure to bring you the second historic Black-Palestinian Solidarity conference this coming November in Melbourne.
This iteration of the conference looks at the long-standing solidarity between Aboriginal and Palestinian peoples in the continent now known as Australia and across the globe in the struggle against settler colonial occupation.
The conference will reflect on the role and forms of solidarity in precarious times of modern nation statehood, questioning how, with the hardening of immigration policies, the closing of borders, the rise of right-wing discourses, and historical institutional racism, members of the international community can work towards self-determination and sovereignty, separate from national and state governments.
How can social, academic, activist and artistic communities join together and renew longstanding relationships founded on the desire for liberation, freedom and self-determination? This conference is interested in experimenting with Black-Palestinian solidarity as theoretical framework and practice for a basis of transnational movements of resistance.
The Black-Palestinian Solidarity conference will include panels and presentations from leading Aboriginal, Palestinian Australian and international thinkers, academics, artists and more.
Key details:
Brown Room, University of Melbourne
Building 193, Wilson Avenue
Parkville, VIC 3010
Directions: https://maps.unimelb.edu.au/parkville/building/193/106
______
Full program
Day one, November 6.
9:15am Registration opens
9:45am Welcome to country
10:00am Welcome from Professor Gary Foley and Ali Kazak
10:15am Professor Nadia Abu El-Haj
10:30am – 1:00pm
Session One: Identity, Race and Solidarity
Chair: Sara M. Saleh
Professor Alexis Wright, Mahmoud Darwish Poetry Reading
Professor Larissa Behrendt, Self-determination in film making practice
Dr Clare Land, Identity categories: How activists both use and refuse them in framing Indigenous struggles and solidarity
Associate Professor Lorenzo Veracini, Solidarity Against Elimination: Indigenous Internationalism Defeats Settler Colonialism
2:00pm –4.45pm
Session Two: Pan-Cultural Movements, Decolonisation and the Post-National
Chair: Eugenia Flynn
Nadia Ben-Youssef, Slouching Towards Bandung: Rooting our decolonised future in our anti-colonial past
Professor John Maynard, The Other Fellow: Aboriginal and Palestinian Political Resistance
Professor Tony Birch, 'Inside the Conflict Zone': global colonialism and the destruction of country.
Dr Marcelo Svirsky, 'Let me tell you a story about Israel'
6:00pm - 6:45pm
First Keynote: Gary Foley
Note: Keynotes will be in the same location, open to the public for free and with no need to register. Details here: https://www.facebook.com/events/2568147556556670/
Day two, November 7.
10:00am – 12:40pm
Session Three: Art and Resistance
Chair: Samah Sabawi
Dr Adania Shibli, With Minimal Force
Destiny Deacon and Virginia Fraser, 'In Conversation'
Hadeel Assali, An Israeli Transfer Scheme
Dr Sary Zananiri, The Savage and the Salvageable: Colonised Bodies in Colonial Landscapes
Peter Waples-Crowe, Ngarigo Queen
1:40pm – 4:35pm
Session Four: Appropriated Narratives and National Myth Making
Chair: Professor Ian McLean
Tasnim Sammak, 'You're meant to state facts': Counter-storying the institutional silencing of Palestinian narratives in Australian educational sites
Dr Yassir Morsi, Storytelling on the Conference Floor
Dr Micaela Sahhar, 'I have no other land': Subverting Aboriginal history in Israeli aspirations to indigeneity
Professor Ghassan Hage, The Museum of Colonial Necrophilia
Vernon Ah Kee, The Island
6:00pm - 7:00pm
Second Keynote: Professor Rabab Abdulhadi
Note: Keynotes will be in the same location, open to the public for free and with no need to register. Details here: https://www.facebook.com/events/670445086810247/
Day three, November 8.
9:45am – 12:50pm
Session Five: Racialised Statehood, Carceral Architecture and Military Nationalism in Settler States
Chair: Amy McQuire
Léopold Lambert, Building Transnational Solidarity Against Colonial Solidarity from Kanaky to Palestine
Hamzah Baig, 'A World Cut in Two': The Psychic and Social Dynamics of Settler Colonial Urbanism in Algiers
Archival Footage Screening from Black-Palestinian Solidarity, 2018
Shatha Safi, 50 Villages: New Geography
Jacqui Katona, Aboriginal Autonomy and the State
Professor Suvendrini Perera and Professor Joseph Pugliese, Deathscapes: Mapping Race and Violence in Settler States
1:50pm – 3:00pm
Session six: Matriarch Panel
Coordinated by Jacqui Katona
With Alissar Chidiac, Alma Thorpe, Bronwyn Penrith, and Samah Sabawi
3:00 - 5:05pm
Session seven: Activism as Decolonial Practice, Part 1.
Richard Bell and Dr Chrisoula Lionis, In Conversation
Activism as Decolonial Practice, Part 2.
Chair: Yousef Alreemawi
Dr Randa Abdel-Fattah, When you are the daughter of the dispossession and complicit in dispossession
Professor Irene Watson, Aboriginal Peoples' authority and decolonisation
Murradoo Yanner, Self-Determination in The Gulf Country
5:20pm - 6:20pm
Third Keynote: Karrabing Film Collective screening and discussion with Daphne Yarrowin, Sandra Yarrowin and Danielle Bigfoot Lane.
Note: Keynotes will be in the same location, open to the public for free and with no need to register. Details here: https://www.facebook.com/events/881848538865261/
Register now to secure tickets!
Complimentary passes are available upon request. Please email blackpalestiniansolidarity19@gmail.com if you would like one.
Everyone is welcome to attend this event, however racism, homophobia, transphobia, biphobia, sexism, ableism will not be tolerated under any circumstances. Anyone engaging in such behaviour will be asked to leave. Content note: This event will likely contain discussion of racism, sexual and colonial violence.
Accessibility
Brown Room at the University of Melbourne, where the main conference will take place, is wheelchair accessible.
Bathrooms at Brown Room include an All Gender Wheelchair Accessible Toilet RH and a Female and Male Ambulant Toilet.
Stop 1 Melbourne University/Swanston St is a low floor tram stop. The stop services routes 1, 3, 5, 6, 16, 64, 67 and 72.
Disability parking: https://maps.unimelb.edu.au/__data/assets/pdf_file/0024/30498/parking-spaces-map.pdf
Please let us know if you require Auslan interpretation.
____
Sponsors:
School of Culture and Communications (University of Melbourne)
Indigenous Settler Relations Collaboration
Centre of Visual Arts
Australia Palestine Advocacy Network
Arab Council for the Social Sciences
Maritime Union of Australia
Victoria University
Center of Palestine Studies (Columbia University)
Partners:
Institute for Postcolonial Studies
Averroes Centre of Arab Culture
Palestinian Film Festival
Australian Jewish Democratic Society
Readings
This conference is held and was mostly organized in and around the lands of the Wurundjeri people in the Eastern Kulin Nation. Sovereignty was never ceded. Always was, always will be Aboriginal land. We acknowledge the Wurundjeri, and First Nation peoples everywhere, in their ongoing struggle against occupation. We pay respect to Indigenous Elders past and present everywhere.