Black Dog Ride Around Australia 2019 EXPRESSIONS OF INTEREST

Friday, 26 July 2019 at 7:00 am

-

Thursday, 29 August 2019 at 9:30 pm (AWST)
Event Details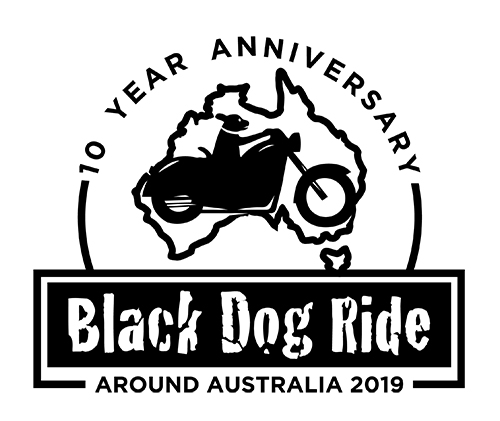 On the 10th Anniversary of the ride that inspired a nation, Black Dog Riders will embark on a 15,662km epic journey of personal discovery and community awareness, with nationwide support.
The catalyst for Steve Andrew's inaugural Black Dog Ride in 2009, his two wheeled circumnavigation of Australia, was the suicide of a loved one in 2008. Steve saddled up and set out to raise awareness of depression. 10 years later his visionary act has grown into a nationally respected Australian mental health charity with hundreds of community leaders with lived experience organising activities each year, all with one aim: to raise awareness of depression and suicide prevention.


THE LAP AND THE STATE RIDES
On July 26th 2019, Black Dog Ride will be departing from Busselton WA, the original departure date and location in 2009. For safety, cohesion, catering and logistics, the ride will be limited to 65 Black Dog Riders. Those who would love to join us but can't get the time off work or commit the funds are encouraged to join us on our 4 to 7 day long State Rides. (South WA - from 26th July; SA - from 29th July; VIC - first week of August; NSW - from 5th August; QLD - from the 11th August; Darwin - 20th August; North WA from 23rd August). 
THE CAUSE
Black Dog Ride aims to raise awareness of depression and suicide prevention, and our 10th anniversay circumnavigation around our nation will certainly do that! Our community members, especially those affected by depression or suicide, are immensely generous and want to contribute to the cause with donations. As Black Dog Ride is a charity every donation over $2 is tax deductible, and funds raised will go into Black Dog Ride's community funding pool to fund mental health projects across the country.
THE COMMITMENT
Riding around Australia with us is a massive undertaking with 5 rest days across 35 days of riding, at an average of 450kms per day, plus community engagements. The original solo lap took 26 days, the 5th anniversary lap with Black Dog Riders took 32 days. It is designed as a commemoration of our origins combined with a grassroots mental health awareness campaign, and we must take into account most riders have limited annual leave and funds. Please don't enquire about extending the ride - it already has been.

Before you express your interest in registering for the Around Australia Ride, please think over your commitment. Starting soon you will need to develop your ride fitness, going out for long durations on your bike and getting used to being in saddle for long periods of time. You also need to take into account your motorcycle and it's capacity for this long ride. Your motorcycle and yourself must be capable of riding the posted highway speeds, day after day.
Please note: to be part of the full lap, you must commit to completing the FULL LAP, and not join us halfway or depart earlier. Please look into joining a state ride if you cannot commit to the full lap.
EXPRESSING YOUR INTEREST
Registration for the 10th Anniversary Black Dog Ride Around Australia will open in January to those chosen for the first registration round. Due to high interest, it is unfortunate that we have to do it this way but we can't find any other reasonable alternative that keeps everyone happy and balances our needs as a mental health charity with limited organising capacity. The capacity of the State Rides is capped at 70 - 100 depending on region, so there's plenty of room and if you can't get on the full lap, we strongly encourage you to book for a State Ride instead. There were 65 Black Dog Riders on the 2014 Black Dog Ride around Australia, yet there were a massive 450 participants in the State Rides! Get involved and help us make a big impact on mental health Australia wide.

Expressing your interest does not guarantee you a place on the ride. The registration expense is expected to be around $600 for the fully organised 35 day adventure, (lower of course for the State Rides) but you will be expected to fund accomodation, fuel and meals. We aim to publish accomodation and itinerary for the full lap in January too, however State Rides may need to wait a couple of months for that info. We are collecting State Ride EOIs to help our volunteer Coordinators with planning.
CAN YOU OFFER SUPPORT?
If you are interested in sponsoring Black Dog Ride, organising a community activity or donating, we'd love to hear from you! Please head to our website here for more info: https://www.blackdogride.com.au/view/get-involved

Stay tuned and have a safe and happy Christmas and New Year!
Save This Event
When & Where

Busselton, WA 6280
Australia

Friday, 26 July 2019 at 7:00 am

-

Thursday, 29 August 2019 at 9:30 pm (AWST)
Add to my calendar
Organiser
Black Dog Ride began in 2009 as a ride to raise awareness of depression, evolving into a national charity involving thousands of Australians who have raised millions for mental health programs and fostered mental health awareness around the nation. 
Join us on our mission to raise awareness of depression and suicide prevention.