Description
bikablo® Visual Facilitation Garage

You have participated in a bikablo® fundamentals or practitioner training and want to go further: reflect your work, learn more and develop your own visualisation style. The bikablo® visual facilitation garage is exactly for that: Half a day in the CBD to exchange, learn, try!
What is it about
The bikablo® technique is based on a simple but individually extendable modular system. After a very short time you are able to successfully draw icons, figures and containers, which can immediately be used in everyday life. This experience of success is important for the deployment of the learnt, to keep it rolling and to feel: I can be creative and design something without previous drawing skills!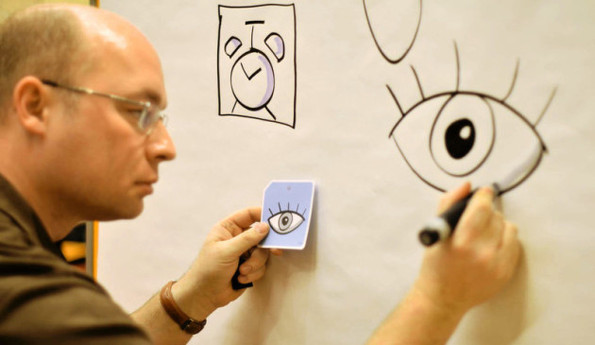 As a first step you copy the visual vocabulary exactly from the template, e.g. from our visual dictionaries. This is great because we know they work reliably like that.
Find your own style!
In the second step, after some time of practice and the 'I can do it!' feeling, there rises a desire to develop one's own style. Maybe you want to draw up your own picture library that matches your work. Or you want to change the bikablo® figures so they show your own style. Or you're creating new varieties of your handwriting and would like some feedback on its impression on others. Or you would like to improve existing posters and wish some expert advice.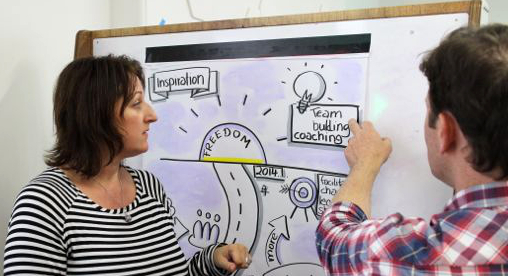 Please note: The bikablo® visual facilitation garage is for people who have already participated in a bikablo® fundamentals or practitioner training. If you are new to this we recommend the bikablo® fundamentals or bikablo® practitioner training.
What to expect
A half day workshop in a creative environment, easily accessible, right inside the CBD. Support and guidance with the individualisation of figures, typography and your own picture library.



When is this training right for you
You have already participated in the fundamentals or practitioner training.

You have cleared the first hurdles in practicing and applying the technique and are keen to make progress in design and technique.

You enjoy the exchange with other visual facilitators, reflecting about application examples together and stay in contact with the bikablo® academy and the Neuland product development.
What do you get on top
Documentation: For your follow-up we create a photo documentation with all inputs of the trainer and the results of the group.

bikablo® graduates group on LinkeIn: You will be invited to this online community where you get heaps of tips, links and recommendations. You can exchange about visual facilitation topics or share your own icons, posters, key figures with others.

We place a group order for Neuland products together to share delivery costs.

At the end of the day we can keep chatting and I am available for further questions at the visual facilitator's Meetup group.
Small print
Our training concept and the methodologies used in the trainings are subject to copyright. As with all trainings and workshops the happening of the garage is subject to number of participants.
What to bring along?
Sleep well the night before and be on time. We are not waiting for you. Apart from a great energy and your printed Eventbrite ticket you don't need to bring anything along.
All materials are included in the training costs and no drawing skills are required!
The training is presented by:

Organiser of bikablo® Visual Facilitation Garage Melbourne - Advanced Program
Marcel combines agile team coaching with visual thinking.

Marcel believes that a group of people drawing together on a whiteboard can change the world. He loves high-performing teams and therefore coaches teams everday.

He likes to share his experience in his trainings, as a speaker at conferences and as the host of a user group.

He produced serveral videos explaining agile practices, principles and lean thinking using visual facilitation technics.

When he is not drawing he loves to meditate and travels around the world.