How is the bush recovering after the 2019-2020 megafires? Put on your citizen science hat and join us for the Big Bushfire BioBlitz!
About this event
*WASHPOOL EVENT CANCELLED*
THIRD AND FINAL BIOBLITZ TO BE HELD IN CROWDY BAY NATIONAL PARK AND DOORAGAN NATIONAL PARK
Grab your hat, your camera, and your moth sheet, and get ready for the Big Bushfire BioBlitz! The University of New South Wales' Centre for Ecosystem Science, the Atlas of Living Australia, the Australian Citizen Science Association, Minderoo's Fire and Flood Resilience Initiative, and the Department of Agriculture, Water and the Environment are joining forces to run three bioblitzes across NSW in early 2022 to help track how our native ecosystems are recovering from the 2019-2020 bushfire season.
Join us as we search for bugs, bats, birds and everything in between. We're putting together an exciting line-up of experts, including from our partnering scientific organisations, the Australian Museum, and Invertebrates Australia, to help point out amazing plants, animals, and fungi, explain how they fit into the ecosystem, the impact of the bushfires, and give you all kinds of tips and tricks to help you become a better naturalist!
BioBlitz 3: Crowdy Bay & Dooragan National Parks, Biripi Country, 6pm Friday 6 May - 2pm Sunday 8 May 2022
COVID- 19 DISCLOSURE
You acknowledge that, notwithstanding compliance with government regulations, there is still an inherent risk of exposure to COVID-19 that exists in any public place, including open air locations where people gather. You confirm that you (and any accompanying attendees) have considered all risks related to COVID-19 exposure by attending the bioblitz, including personal health conditions, and risks to those who may be in close contact with you (and your accompanying attendees) following attendance, given that this virus is contagious and can lead to serious health consequences particularly for vulnerable groups of people. You acknowledge that by attending the bioblitz, you (and your accompanying attendees) voluntarily accept all risks related to exposure to COVID-19, and at the time of attendance, you agree to comply with all government directives and abide with directives by Eventbrite and UNSW. UNSW, in line with current NSW Health orders, require that all patrons aged 16+ have received two doses of an approved COVID-19 Vaccination prior to entry, therefore ticketholders will be required to provide a proof of double vaccination status or valid written medical exemption to University staff before entry to the theatre.
We recommend social distancing and wearing masks.
Due to UNSW fieldwork volunteer requirements, under 18s/teens are welcome to participate but must bring a parent or guardian along and remain under their supervision at all times. Registration is required for both under 18/teen and parent/guardian.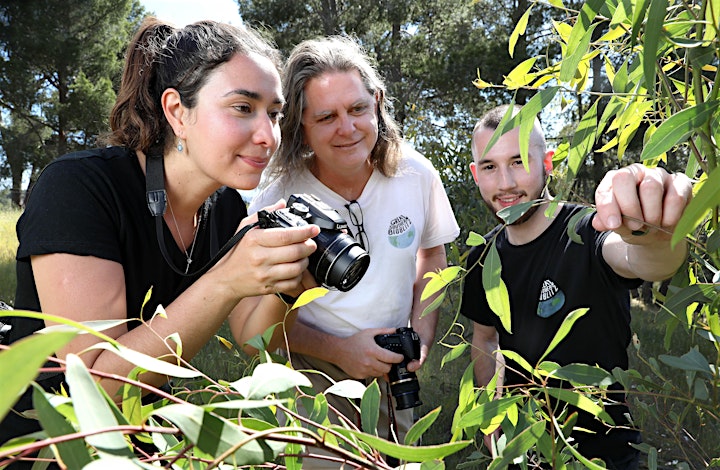 Image: Citizen scientists in action during the recent Great Southern BioBlitz, image credit Dean Martin (CC-BY-NC)