LaLiga Business School and the University of Canberra have teamed up to deliver a webinar on professional football strategy
About this event

LaLiga Business School and the University of Canberra have teamed up to deliver a webinar on professional football strategy. A stellar speaking line-up includes:
Glen Rolls - Delegate for LaLiga, Australia and New Zealand
Glen will speak about the internationalisation strategy of LaLiga and how this has been adapted in a time of crisis.
Mar Llaneza - Business Development for Villarreal C.F.
Mar will provide some insights into the operations of Villarreal paying particular attention to their business expansion, sponsorship activations, and international development.
Phil Brown - CEO of Capital Football
Phil will discuss commercial risks for sport organisations and how sports may need to adjust their business models.
Allyson Flynn - Former FIFA Assistant Referee and UC Lecturer in Physiotherapy
Following the presentations Allyson will lead a discussion on professional football strategy followed by facilitating a Q & A between the speakers and the live audience.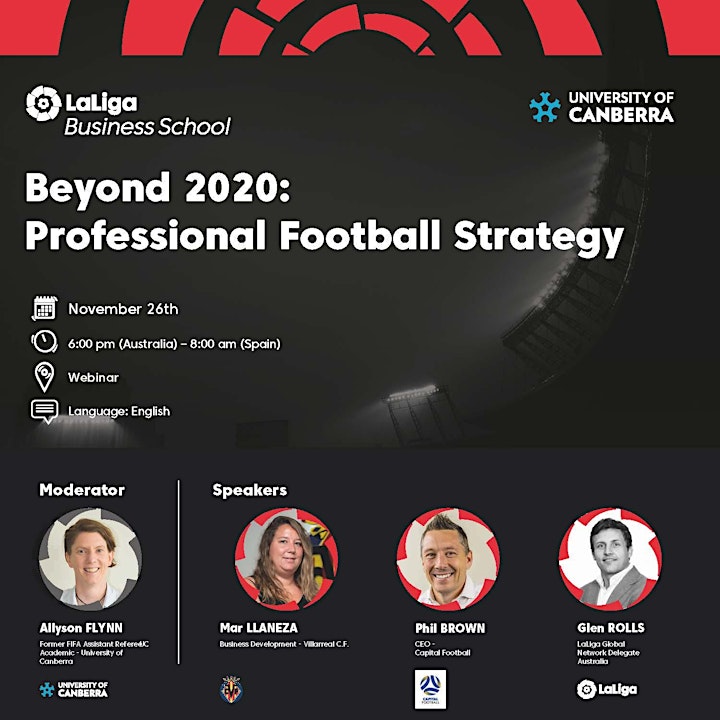 INFORMATION ABOUT THE PROCESSING OF YOUR PERSONAL DATA BY LALIGA
Your personal data will be communicated by the University or the organization that gives the training to the Liga Nacional de Fútbol Profesional with registered office located in Madrid, calle Torrelaguna 60, 28043 and CIF G-78069762 (hereinafter "LaLiga"). We will process your personal data to send you information about the contents of LaLiga and LaLiga Business School according to your personal preferences. The legal basis of the processing is the consent that you provide to LaLiga. The personal data will be kept during the period in which the purposes persist, and later, they will be kept blocked for the periods established in accordance with the applicable regulations until the moment of their definitive erasure.
We inform you that you can exercise the rights of access, rectification, objection, erasure, portability and limitation of processing, as well as revoke the consent granted to LaLiga by sending an email to the address lopd@laliga.es indicating in the subject the reason for the request. Likewise, if you consider that you have not obtained satisfaction in the exercise of your rights, you can file a claim with the Data Protection Officer (dpo@laliga.es) of LaLiga or with the Spanish Agency for Data Protection through its website. www.agpd.es. You can obtain more information about the processing of your data at https://business-school.laliga.com/politica-privacidad
Organiser of Beyond 2020: Professional Football Strategy - A discussion with LaLiga