Location
REmida - Creative Reuse Centre
1 Prospect Place
West Perth, WA 6005
Australia
Description
We are excited to invite you to be a part of the BEING REAL Inspirational Community Forum, a first ever event for Perth as the city and the state undergoes many changes that will define who we are and our place in the world.

This is a special forum designed to help innovative citizens and community members to discover different ways of tackling 21st century challenges.

The Being Real Inspirational Forum is proudly brought to you by a consortium of innovators and changemaking organisations including the enkel collective, REmida, Edith Cowan University, MAPS Institute, and LD Research Studio; in partnership with Inspiring Australia an Australian Government Initiative, State Government of Western Australia, and Scitech.

This event is run as part of the worldwide Open Source Circular Economy (OSCE Days) festival, that sees cities from across the globe coming together to explore new ways of living, doing, thinking and being.

Experts with specialist skills in innovation, entrepreneurship, futurism, design thinking, social innovation, community development and systems thinking will be facilitating a number of interactive, learning, exploration and community building sessions based on the themes:

The RECONNECT workshop explores the psychology of behaviour change and how desirable actions can be shaped through reconnecting with ourselves, the people around us, our communities and business network. This session will be a hands-on experience of learning how to take a step back in order to examine our current positions before exploring the practical steps required to realise change.

Past intelligence and old assumptions no longer work in a Volatile, Uncertain, Complex and Ambiguous world (the VUCA world). To develop new ways of seeing and to uncover hidden solutions, the RETHINK workshop will be an insightfully facilitated session focussing on a specific wicked problem.
You will learn about artful techniques of re-framing the world, unusual methods for embracing complexity, while developing an understanding of the multidisciplinary collaboration tools required to approach challenges from different perspectives so that new insights emerge about difficult issues and more innovative solutions are uncovered. Simply put, we will show you how to acquire 21st century thinking.

The REALISE session is an opportunity for participants to fully explore strategies for developing innovative solutions to complex problems that apply in a range of social and corporate settings. An engaging mix of theory and practice will be melded for maximum effect to delve into possibilities available within a given context.
(please note REmida has limited-accessibility, if you have any questions please call prior to event).
Meet our facilitators: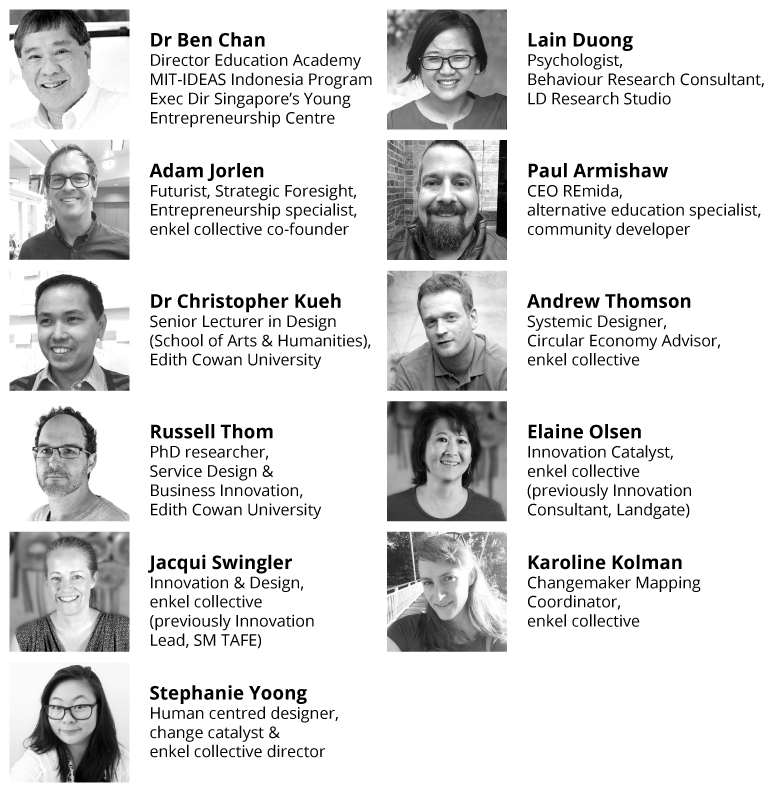 FAQs
What are my transport/parking options for getting to and from the event?
Public transport - 20 minute walk from Leederville train station, Bus stop number 12875.
Parking - Limited parking available onsite.
Please try and arrive early to register so we can start on time.
Is food Included?
Yes lunch and refreshments will be provided.
Will there be a chance to network?
Yes we encourage you to make time to be able to stay after the event to talk and meet new people. There will also be a small marketplace showcasing future focused businesses and organisations (we will send you details prior to the event). One of the aims of the forum is to start to build a community of changemakers, more information will be given during the day.
How can I contact the organiser with any questions?
email - osce@enkel.co

phone REmida - (08) 9227 5576