Event Information
Refund policy
Refunds up to 7 days before event
Eventbrite's fee is nonrefundable.
Our team of trainers, baristas and roasters developed this 4-hour course for the specialty coffee market.
About this event
Wholesale Customers
Barista Foundations is a comprehensive introductory 4-hour course for professional baristas and café owners. Our team of trainers, baristas and roasters developed this course for the specialty coffee market.
This course runs from 1.00pm - 5.00pm with breaks.
Who is it suitable for?
Barista Foundations is basic training for our wholesale customers with a focus on making espresso drinks in a café environment, using Toby's Estate blends.
Course objectives:
The four phases of training are:
• Theory & application for espresso extraction for blends (using recipe cards)
• Basic espresso tasting application (recipe)
• Theory & application for milk texturing & pouring
• Cleaning & maintenance
Learning Outcomes:
By completing the course, the learner is expected to:
• Have a basic understanding of the process in making espresso-based drinks, quality, and efficient work-flow
• Set a grinder, (dose, collapse, distribute & tamp correctly) lock in handle, and pull shots
• Appreciate the importance of a recipe for quality & consistency in a cafe
• Demonstrate how to apply Toby's recipe cards by dialing in a recipe using scales
• Appreciate impact on espresso flavour from not following recipe guidelines
• Use correct basic flavour description terminology: Acidity, Flavour, Mouthfeel, Finish.
• Apply sensory terminology to identify espresso flavour
• Practice on-going adjustments to grinder during shift to maintain recipe guidelines
• Perform basic ongoing cleaning and back flushing
• Texture milk correctly in two stages (texturing & heating)
• Apply the skills & techniques required to pour milk-based coffees correctly (understand the coffee menu)
• Identify correct foam levels for various milk-based coffee drinks
• Perform an 'end-of-shift' cleaning (grinder & machine)
The nearest parking is available at:
1. Wilson Parking, 275 James Street, Northbridge
2. Wilson Parking, 217 James Street, Northbridge
3. City of Perth Parking (CPP) 207 James St, Northbridge
4. City of Perth Parking (CPP) 68 Roe St, Northbridge WA 6003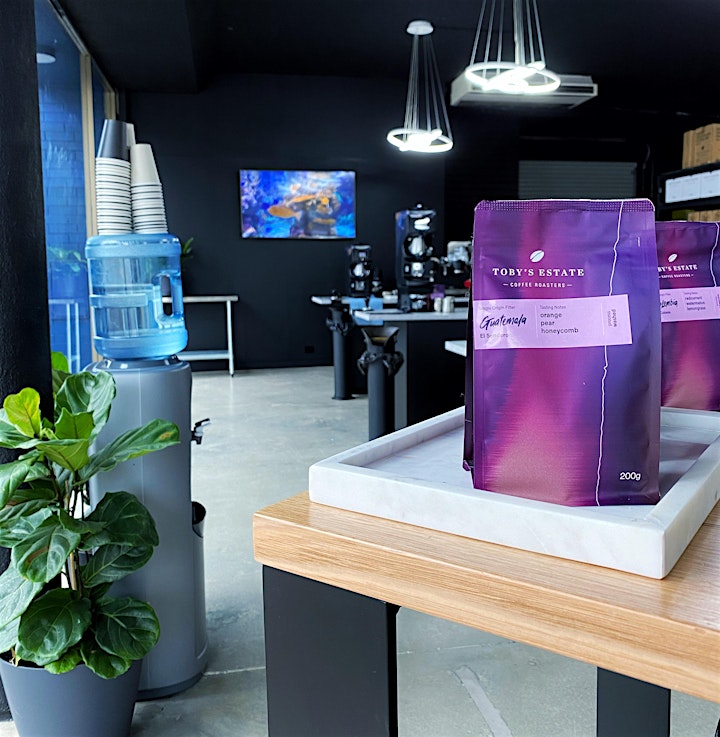 Location
Toby's Estate Coffee Studio
Whadjuk Country
1 Fitzgerald St
Northbridge, WA 6003
Australia
Refund policy
Refunds up to 7 days before event
Eventbrite's fee is nonrefundable.
Organiser of Barista Foundations
Our Story
The story of Toby's Estate began in 1997, when coffee-loving lawyer Toby Smith made a life-changing decision, swapping legal books for coffee cups to follow his passion for his favourite brew. Travelling to some of the most remote corners of the globe, Toby lived amongst the coffee-producing communities, experiencing first-hand the lifelong dedication and hard manual labour that went into growing their exquisite beans.
Toby knew that connoisseurs and everyday drinkers would love the specialty coffee as much as he did – but how to get the beans from crop to cafés?

Our Approach to Coffee
So how do we get hold of those beautiful little beans that become your delicious go-to cup? It's simple really. We believe our coffee producers deserve the best, just as our customers do.
That's why we work so hard at creating a fair and sustainable supply chain that supports our growers, their futures and the future of coffee. So every Toby's moment feels good in more ways than one.

Our Roastery; where all the magic happens
At the Toby's roastery in Chippendale, our raw globally-sourced green beans become the richest coffee beans, roasted to perfection to bring out their unique flavours.