Mark and Camille Awad - Winding Road Distillery - Our Story
About this event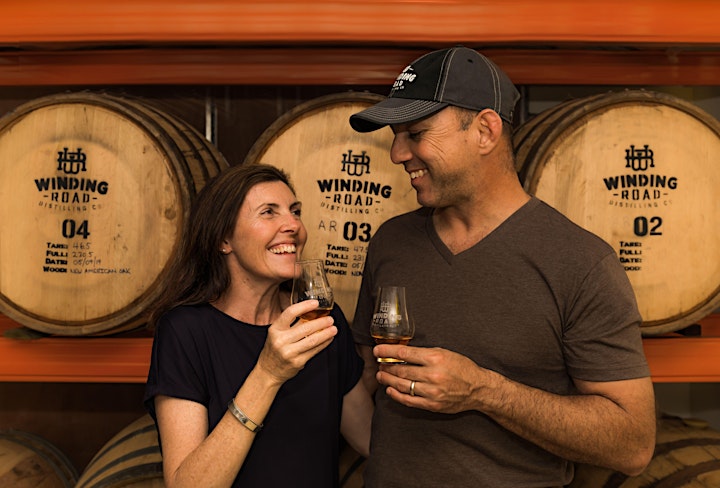 Winding Road Distilling Co. was born from a love of unique spirits, a curious nature, and a strong sense of adventure, by Camille and Mark Awad. 
Their dream was to create and handcraft premium small-batch spirits to capture the natural beauty and abundance of the NR region of NSW that they call home.
Winding Road Distilling Co. is a family-run distillery with a commitment to quality and innovation featuring natural and local ingredients. Mark and Camille take a slow and patient approach to their craft, which helps them produce spirits that are full of complex layers and flavours. They are hands-on every step of the way and are confident their attention to every detail is reflected as a result. 
Through a chance meeting of two people over 20 years ago from different countries, their journey has been very much a long winding road. In 2009 they settled in Tintenbar. Fast forward to 2015 and a long-held dream to build their own craft spirits distillery grew. 
We cannot wait to share this remarkable story with you.
www.windingroaddistilling.com.au
View all upcoming Byron and Beyond Networking events!
Organiser of Ballina Networking Breakfast - 25th. February 2021
Byron and Beyond Business Networking group is an integral part of the Northern Rivers business landscape and contributes enormously to entrepreneurial and business growth in the region. 
From humble beginnings in Bangalow in 2009, we have enjoyed a natural membership growth and geographic expansion to now include members from all areas of business throughout the region.
We are known for our warm welcome, and we meet at amazing restaurants in each town to enjoy top quality food, content and connections. 
It's a small and enjoyable investment in your personal and professional development.