Description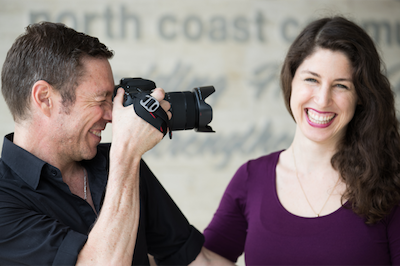 Simon and Rebecca Asquith - Visual Marketing 101: photos, videos & branding made sexy…
What you need to know to make your visual marketing more sexy. Like, now. And no, it doesn't involve posting bikini shots to Instagram.
Over 90% of our communication is non-verbal. 80 percent of people skim read on the Internet. When you put a picture with your words a person is 65% more likely to remember the written content.
If you do not have an understanding of visual marketing you may not be making the impact that you could.
But what standard of quality are the images that you are publishing?
Are they professional looking photos that communicate the essence of your brand or are they stock shots full of happy plastic people that are making your business look cheesy and inauthentic?
Join Rebecca and Simon Asquith as they give you 5 keys insights to visually engaging your customers in a memorable and impactful way – from knowing how to take the killer smartphone shot, to bringing your creative input to a professional photoshoot for your brand.
Husband and Wife Team Simon and Rebecca Asquith have been working in the visual and creative industries since their early 20s. Together they specialise in cracking the 'holding back' factor to empower their clients to bring their quality and expression out in full during a photo or video shoot. Web Design, Branding, Photography, Video Production, Sound Production, Livestreaming of conferences and events, Writing and Editing, Media Education and Mac Computer training are just some of the other services they offer.
View all upcoming Byron and Beyond Networking events!

Organiser of Ballina Networking Breakfast - 22nd. November, 2018
Byron and Beyond Business Networking group is an integral part of the Northern Rivers business landscape and contributes enormously to entrepreneurial and business growth in the region. 
From humble beginnings in Bangalow in 2009, we have enjoyed a natural membership growth and geographic expansion to now include members from all areas of business throughout the region.
We are known for our warm welcome, and we meet at amazing restaurants in each town to enjoy top quality food, content and connections. 
It's a small and enjoyable investment in your personal and professional development.