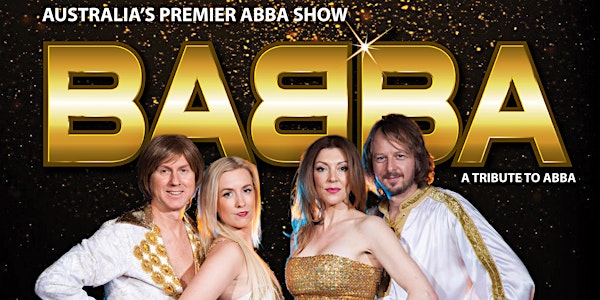 Event Information
Performers
Location
Yarraville Club
135 Stephen Street
Yarraville, VIC 3013
Australia
"Dare I say it, as good as ABBA" - Molly Meldrum
About this event
Important Show Information - Door times:
Doors Open at different times, depending on the ticket you hold.
Dinner & Show ticket holders - 18:45 doors open
Reserved seating and GA ticket holders - 20:00 doors open
In 1994 a plot was hatched in a pub in Richmond, Victoria, to create the best ABBA tribute band in Australia, now, 21 years on, BABBA are still wowing crowds across the length and breadth of the country with their sparkling re-creation of the 70's super group and that plot has definitely come to fruition.
The musical framework of the band, Michael Ingvarson (Benny on Keyboards), James McDonald (Bjorn on guitar) and Paul Edsall (drummer extraordinaire) have been there since day one and even though Agnetha and Frida have seen a number of incarnations, the heart and soul of the band, the amazing songs of ABBA, has, and always will be, the number 1 priority.
A BABBA show is so much more than simply the songs of ABBA. The show is about memories, songs that in a second take you to another place and remind all of us of people and places and times that have touched our lives. For 2 hours, Benny, Bjorn, Agnetha and Frida and the incredible legacy they gave the world, can be ours once again.
From the glitz and glamour of the costumes and dance moves, all served up with a Swedish accent, to the precision and expert delivery of the music; even the most sceptical of audience members are transported back to 1977 and instantly become immersed into the wonderful musical illusion that is BABBA.
Not a single hit is missed as audiences become choirs, singing along, and on many occasions taking over the vocal lead, to songs as familiar as their own names. From the gentle ballads with heart warming melodies and angelic harmonies to some rock and roll excitement as Benny asks Bjorn if he's ready to rock them, the superb musical finesse of this show is as polished and precise as the day the songs were written.
Seats become redundant as the hits keep on coming and the uncontrollable urge to get up and dance takes control. The energy that exudes from the stage is highly contagious and has no known cure other than to simply indulge your senses and believe; the 70's are alive and well and right in front of your eyes.
From Eurovision winners to winners taking it all, the show builds and climbs, leading the audience on their journey through time, to their ultimate destination, as the Dancing Queen arrives to take the crowd to yet another high.
BABBA is the ultimate fun time; no matter how old or how young you may be, the show, just like the music, is timeless.
Audiences know when they have seen the best and been a part of something very special and they just want more; that is why BABBA audiences keep coming back, time after time after time.
Performers
Date and time
Location
Yarraville Club
135 Stephen Street
Yarraville, VIC 3013
Australia
Refund policy