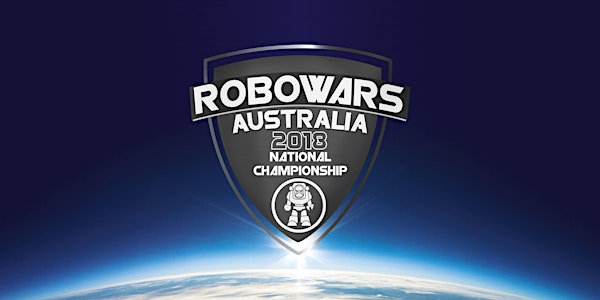 Australian Robowars Nationals 2018: Session 3
Location
Performing Arts Centre, Brisbane State High School
Merivale Street
South Brisbane, QLD 4101
Australia
Refund policy
Refunds up to 7 days before event
Description
Robowars Australia presents the 2018 Robowars National Championship.
This year 32 Competitors from Australia and South-East Asia will battle it out to be crowned Australia's top combat robot. The competition will be fierce! Robots will battle in qualifying pools and then progress to a single elimination round of 16.
The event will have limited capacity so get in fast.

Ticket Information
This competition we have increased the number of fights. Each session has approximately 15 scheduled fights between all competitors remaining in the championship.
We have general admission seats available for general robot carnage viewing and VIP passes for those who want priority seating and backstage access to see all the damage and frantic repairs in the pits.


Other Session Times
Session 1 - Saturday - 10:00am - Buy Here
Session 2 - Saturday - 1:30pm - Buy Here
Session 3 - Sunday - 10:00am - Buy Here
Session 4 - Sunday - 1:30pm - Buy Here
---
FAQs
Will there be seating allocation?
No, there will be no seating allocation.

What about children?
The event is suitable for all ages. But for very young children we would suggest a pair of earplugs to dampen some of the loud noises.

Adult supervision is required and all children under the age of 12 must be accompanied at all times.
Children aged 12 and under can purchase a child ticket. Young adults over the age of 12 must purchase an adult admission ticket.
Children aged 3 and under as at the day of the match are entitled to enter the venue at no charge; however, they must not occupy a seat in addition to the adult(s) who accompany them.
Prams must be left outside the theatre in the foyer.
Will there Wheelchair Access & Seating?

Wheelchair access and seating will be available upon request. Please message the event organisers to arrange this prior to the event.
Will tickets be available for purchase on the day?
No, we are expecting this event to sell out fast due to limited seating. We suggest you buy your tickets now...like right now.
How do I start building robots?
Our call for competitors is posted on the Robowars.com.au website several months before our events. There is also a number of groups around Australia who can help you get started. Send us a message on Facebook and we will point you in the right direction.