Actions and Detail Panel
Australia Ensemble @ UNSW VOYAGES 2017 Season
Sat. 11 March 2017, 8:00 pm – 10:00 pm AEDT
Description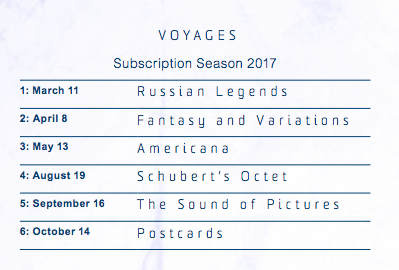 Benefits of Subscribing
Save over 28% by subscribing to all six concerts.
Retain your seat from year to year, and be given first priority to change seats in subsequent years if you prefer.
Enjoy your free newsletter, the AE News, issued six times throughout the year, giving insight into upcoming events and activities of the musicians of the Australia Ensemble @UNSW.
Take advantage of discount tickets with 15% off individual tickets to the Australia Ensemble @UNSW, Collegium Musicum Choir, Burgundian Consort, and other special performances.

Music has the power to propel us to unimagined places and transport us to many states through myriad emotions. To this end our 2017 season, Voyages, ventures through a diverse array of such musical excursions, establishing a strong sense of place while enjoying the local colours and flavours of music from particular national schools. Our season of voyages moves through Russian folklore,sweeping us on to the New World and delights of America, and delving into the sounds of the cinema screen. We are immersed in Fantasy and Variation with quintets of Vine, Nielsen and Mozart, and the titanic Schubert Octet, concluding our year's travels with a sequence of postcards from exotic destinations, ending back in Europe with Tchaikovsky's Souvenir de Florence.
Join us in setting sail on our exciting musical Voyages in 2017.