Description
INFINITY: music for two pianos + large spaces
expansive, shimmering, ecstatic, contemplative :: infinity invites you to lose track of time, enveloping you in a world awash with vividly coloured sound
Sunday 10 September 2017
Doors open from 6.00pm | Concert 7.00pm - 8.00pm
Watermall, Queensland Art Gallery
Cash bar available
QAGOMA presents infinity, a contemporary classical music concert by Brisbane collective ARGO.
Inspired by the works of celebrated artist Yayoi Kusama, infinity is a lush meditation on the perpetual, repetitive, reoccurring, and all-encompassing. With the waters of the Queensland Art Gallery's Watermall filled with Kusama's iconic Narcisuss Garden 1966/2002, a vast instillation of floating mirrored spheres, the audience becomes surrounded in sound, with pianos on either side of the waters, featuring Brisbane's own virtuosi pianists, Liam Viney and Anna Grinberg.
Dazzling and transfixing, the night explores various incarnations of musical minimalism, coupled with live-visuals by local filmmaker Paul W. Rankin. The program includes John Adams "opus-one" foray into minimalism, his powerful piano solo masterpiece "Phrygian Gates", an insight into the "pre-minimalist" tendencies of Erik Satie, Connor D'Netto and Benjamin Heim's post-minimal two piano study of reverb and distance "Music for Large Spaces", and a new work for two pianos by Alex Turley.
PROGRAM
Connor D'Netto + Ben Heim | Music for Large Spaces

Erik Satie | Gnossiennes (excerpt)

John Adams | Phrygian Gates

Alex Turley | new comission - world premiere, comissioned by argo in 2017

Paul W. Rankin | Visuals
ABOUT ARGO
Argo is a contemporary classical music concert series + collective from Brisbane Australia. Founded in 2015 by Connor D'Netto, its artistic director and producer, alongside fellow composer/performer Ben Heim, Argo draws upon a background in classical music and contemporary influences to create new works, performances and experiences which bend the boundaries of genre and art form, and to challenge the norms of musical performance and staging with immersive art music events. Our focus is on creating experiential and concept driven events that fuse classical instruments and ensembles with contemporary influences and new modes of musical expression.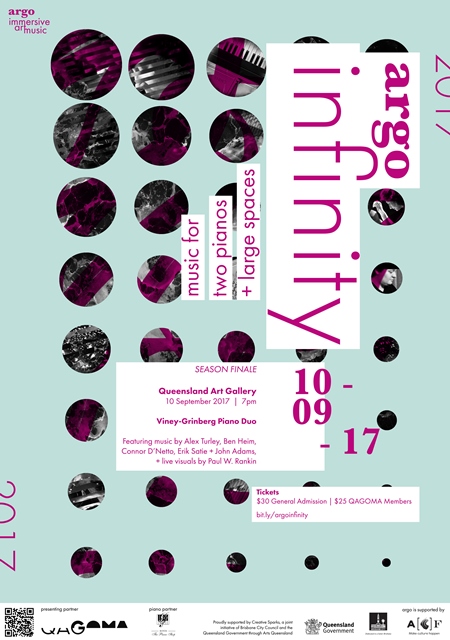 ---
Image: Installation view of Yayoi Kusama's Narcissus garden 1996/2002 /Gift of the artist through the Queensland Art Gallery Foundation 2002 / QAGOMA Photpgrahy