Animal Liberation: Past, Present and Future
Description
ADI Occasional Lecture
Animal Liberation: Past, Present and Future
Co-hosted by the Deakin Critical Animal Studies Network and the School of Humanities and Social Sciences, Deakin University.
Peter Singer is Ira W. DeCamp Professor of Bioethics in the University Center for Human Values at Princeton University, a position that he now combines with the position of Laureate Professor at the University of Melbourne. He is the author of Animal Liberation, sometimes credited with triggering the modern animal rights movement, and never out of print since its publication in 1975. His other books include Practical Ethics, The Ethics of What We Eat (with Jim Mason), The Life You Can Save, and most recently, The Most Good You Can Do. He also has edited In Defense of Animals and its successor, In Defense of Animals: The Second Wave. Together with Paola Cavalieri, he cofounded The Great Ape Project, an attempt to gain basic rights for great apes, and co-edited an anthology, also called The Great Ape Project. Time has named him among the world's 100 most influential people. An Australian, in 2012 he was made a Companion to the Order of Australia, his country's highest civilian honour.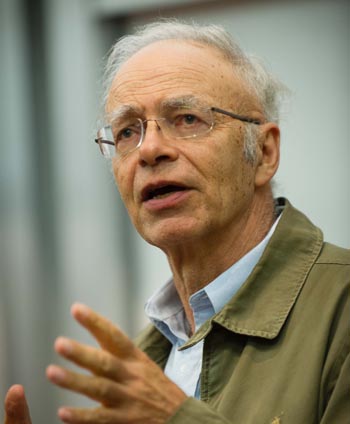 ---
The Deakin Critical Animal Studies Network
The Deakin Critical Animal Studies Network aims to create a conceptual, reflective and empirical academic-activist space wherein animals are recognised as subjects and agents in the academe, as social and political members, actors and stakeholders in our co-produced and co-shared planetary worlds. We encourage academic-activists to create conceptual, reflective and empirical research that values animals and their own agency.
The Deakin Critical Animal Studies Network invites critical reflection on recasting nonhuman animals in social frames to bring marginalised communities of nonhuman animals into focus in our scholarship and teaching. We call for reflection on humans not only as race, culture, or gender, but humans as also species, and animals as also persons, and social and political actors, to dismantle one of Modernity's oldest constructed binaries, 'human' and 'animal'. The Network recognises that individual sentient beings comprise the mass collectives of highly controlled animal production spaces where their freedom, lives and bodies are fully forfeited to human control, and the precarity of wildlife and other animals as their habitats are erased by human-centric development.
For more information about the network please contact the co-convenors Dr. Yamini Narayanan (International and Community Development), Dr. Vince Marotta (Sociology), or Dr. Adam Cardilini (Science).