Description
Women in Mining and Resources Queensland (WIMARQ) invites you to attend a networking function hosted by Grasstree Mine.
Guest speakers are Professor Robert Wood and Dannielle Dendle, who will share their stories and discuss gender diversity and unconscious bias in the mining industry.
Dannielle Dendle is Project Specialist BMA Peak Downs Mine. She was the 2016 Winner Exceptional Young Woman in Qld Resources Award and is a finalist for National Resources Awards in September 2016.
Robert Wood is Professor at the Australian Graduate School of Management, Director of the Centre for Ethical Leadership and Honorary Professor at the Florey Institute of Neuroscience & Mental Health.
This event is also an ideal event for leaders, mentors and professionals.
RSVP by 5pm Wed 5 October 2016.
WIMARQ functions are gender inclusive and attendance is complimentary.
Need accommodation overnight? Here are some options.
Vitrinite:
Double room - $99 per night including breakfast – available from 4.30am until 6.00am - Phone: 49857869
Oaks Middlemount:
$189 per night – Breakfast pack available at extra cost. Phone: 49857577 – Mention Anglo American Diversity function to get this discounted rate – Phone 4985 7577
Middlemount Hotel:
Single - $60 : Couple or shared room - $80.00 – Breakfast available - $15.00 - Phone: 49857133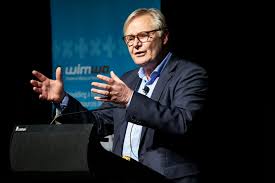 Professor Robert Wood