Description
The Andrew Olle Media Lecture is an annual black-tie dinner that focuses on the role and future of the media.
The lecture is held in honour of one of the ABC's iconic broadcasters, Andrew Olle.
This year's lecture will be delivered by author and columnist Peter FitzSimons AM on Friday 1 November.
FitzSimons began his media career as a sports columnist for the Sydney Morning Herald more than three decades ago. Since then he has co-hosted breakfast radio with broadcaster Mike Carlton and written more than 30 books on a range of topics from rugby to Gallipoli to famous Australians explorers. He currently writes a weekend column, The Fitz Files, for the Sydney Morning Herald and the Sun Herald.
As a former Wallaby, FitzSimons played seven test matches for Australia in the late 1980s and early 1990s. He has been Chairman of the Australian Republic Movement since 2015.
FitzSimons said he was "deeply honoured to be delivering the Andrew Olle Media Lecture. "I have been in awe of Andrew Olle ever since I first heard him on ABC Radio in the 1980s. He was an exceptional journalist and broadcaster and I was lucky to also call him a friend. I've been hungry for this gig for 20 years."
As one of Australia's most outspoken commentators on many sporting, social and community issues, FitzSimon's lecture will cover the role of the media in holding institutions to account and the importance of press freedom.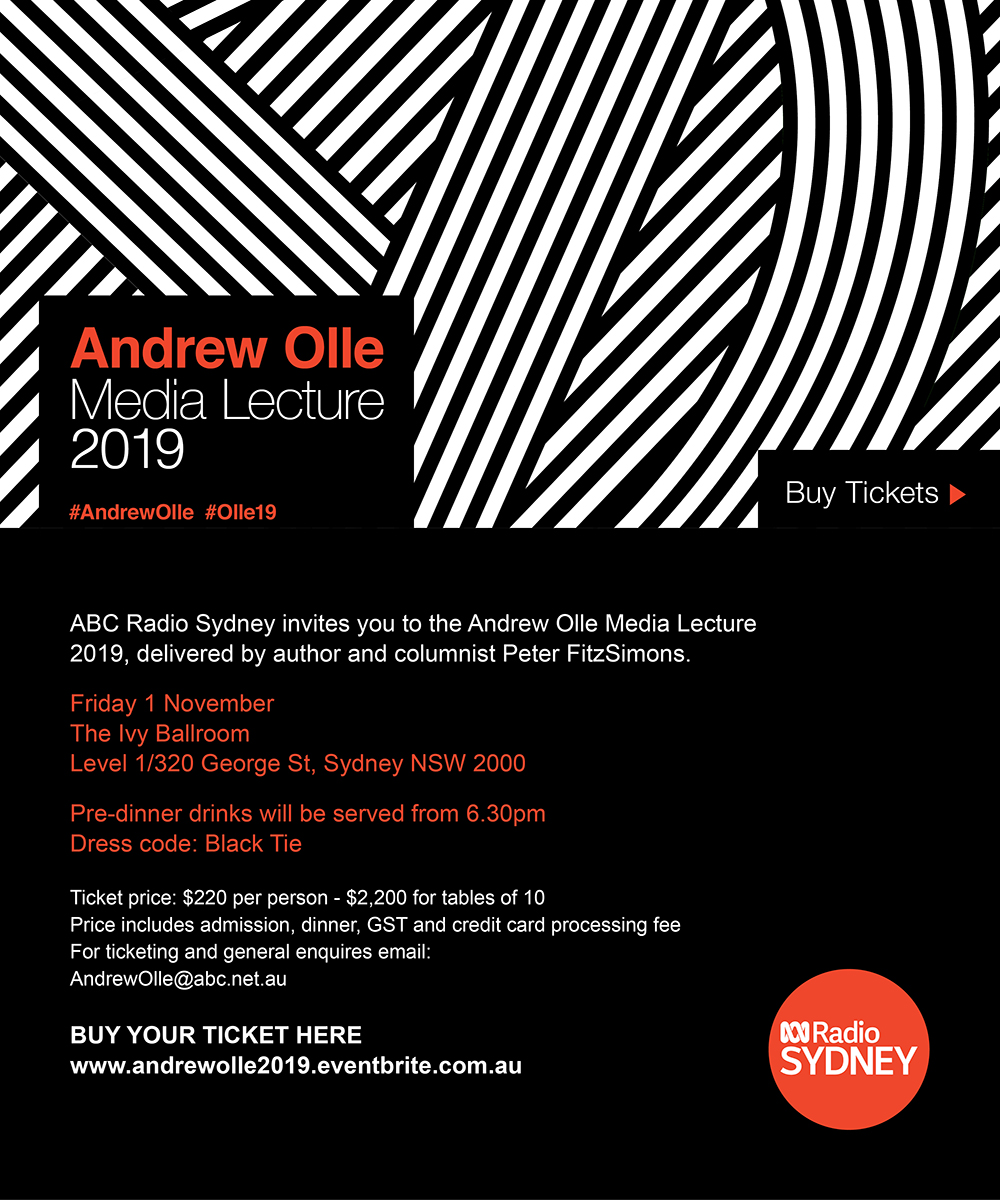 FAQs
Q. Are tickets refundable?
A. We don't offer refunds for the Andrew Olle Media Lecture. You are however welcome to find a replacement. Please notify the organiser of any name changes via andrewolle@abc.net.au.
Q. I want to buy a table, but don't have all the names yet. Is that OK?
A. Yes, you can book a table under an organisation or a single person, then confirm all attendees via andrewolle@abc.net.au closer to the date.
Q. My friend/colleague has booked a ticket. Can I request to be on their table?
A. Yes, we will facilitate if there is room, please contact andrewolle@abc.net.au.
Q. There are 11 of us, can we fit one more person on the table of 10?
A. Due to venue requirements we are only able to facilitate tables of 10.
Q. Dietary requirements
A. The Ivy Ballroom caters to a wide range of dietary requirements. Please contact andrewolle@abc.net.au and let us know your requirements once you've booked. Please note that dietaries must be confirmed at least four days prior to the event.
Q. Is there parking at the venue?
A. There is a paid Secure Parking close to The Ivy Ballroom at 109 Pitt St, Sydney. Further details can be found here.